How to Write a Winning Offer in Nashville
Posted by Steve Jolly on Tuesday, April 13, 2021 at 11:16 AM
By Steve Jolly / April 13, 2021
Comment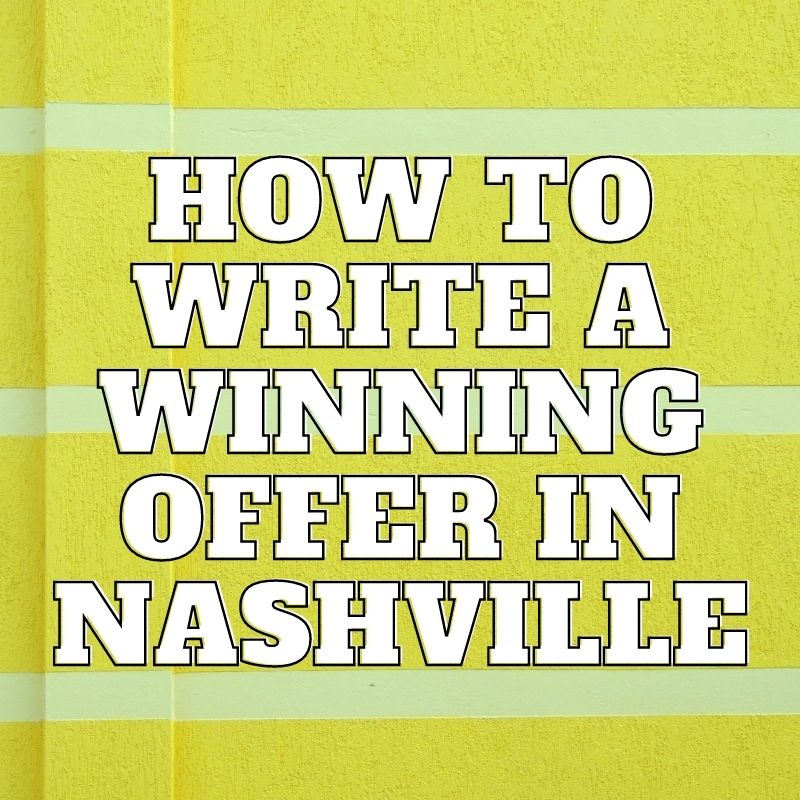 This is the 3rd story in our series for Buyers.
Last week I talked about the Smart Buyer system and how it helps solve your biggest problems. This week, I want to share our secret to helping clients write winning offers.
Now let's get to business…
I heard this from a buyer the other day.
"Been looking for a bit now, it seems like every house that I put an offer on gets turned down or the house goes under contract before I get the chance to see it. People say to keep your emotions out of the home purchasing process but this is a very big investment and it's difficult to not feel hopeless. I'm slightly beginning to think that everyone here has hundreds of thousands in cash"
Kinda feels like you're in the home-buying friend zone, right?
The home buying process is tough because of supply and demand. Both in homes and building materials.
Record numbers of folks are looking to purchase a home right now. Interest rates are at all-time lows which just adds fuel to the fire. A decade of reduced construction activity constrains builders from making up the difference.
Here's the bad news. We need 25% more homes listed for sale to meet the current demand.
Market forces and competition are beyond our control. So, you can't focus on that if you are going to be successful.
It's imperative that you focus on the things you can manage in order to give yourself the best chance to win.
Availability, accurate information, and your negotiation strategy all play a part in a winning game-plan.
Here are three things we do differently to give you the best chance to come out on top.
1. I block my schedule nearly every day to show homes. If you want to see one with us, we can make it happen quickly. If we have another appointment, we will call our partners who can step in at a moment's notice for you.
2. When you find the right home, then we are going to share all of the information and data with you. Unlike other agents, we don't hold anything back. We will give you the details and photos on every comparable sale and listing within a mile. I'll show you exactly which homes are the most similar to your top choice, their Pros/Cons, and how it affects the price.

We also give you our best recommendation and all of the little-known strategies for writing a winning offer. In other words, what we would do if we were in your shoes. But the final decision is all yours with no pressure from us.
3. Early negotiation is key. At this point, too many agents would write up the offer with a bunch of tactics that they saw on social media, submit it via email, and wait for a response.
In my book, that's a big mistake. Not discovering the seller's motivation and goals before you write the offer is the number one reason why some agents won't succeed in this business.
That's not negotiating, that's like throwing spaghetti at the wall to see what sticks.
Instead, I am going to discover everything I can about the seller and their home. Find out what really motivates them. And craft your offer so that it appears to be the best way to achieve their goals.
It's not always the highest price or the cash offer that wins. Small things like the ability to be flexible with the closing date, keeping the offer simple, and having a trusted buyer's agent are a few examples that have put many a buyer across the goal line against stiff competition.
Here's what one client said about us:
"Whenever we saw something that we want to see, we would contact Steve, and he would find a way to meet us whenever we needed to show us the new options!
Finally, they made our closing as easy as possible and kept up with everything that needed to be done. At no time did I ever feel that there was any chance that something would be missed, as we had the best agents around...
If you are looking for a new home, do yourself a favor and talk to Steve--I'm a pretty tough grader, but he gets an "A+" from us!"
If you have questions, feel free to Call/Text me at 615.257.9996.
Next week, I'm going to dive deeper into negotiations and show you how to create a vision that drives the seller's decision.