Would You Risk it All to be the GOAT?
Posted by Steve Jolly on Friday, January 19, 2018 at 1:51 PM
By Steve Jolly / January 19, 2018
Comment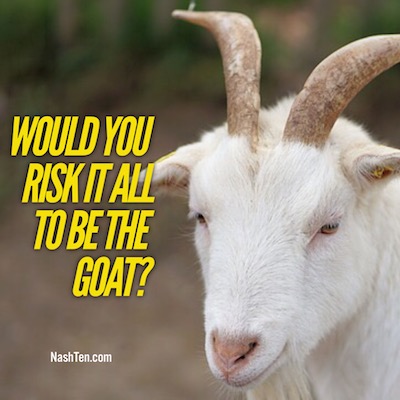 If their bosses would have found out, they both would have been fired.
That didn't stop them from meeting in the late 1980's in West Point, New York for their secret football summit.
At the time they worked for different teams and their head coaches did not approve of them presenting at coaching clinics, let alone meeting with the enemy.
In their minds, it was ok because they were there to learn from each other and not give away anything top secret.
So they met in the offseason in a town where neither had any connections.
Could you guess who these two young coaches might be?
If you said Bill Belichick and Nick Saban, then you are right.
This was before they both became the GOAT [Greatest of All Time] in their respective leagues.
And at the time they were running completely different defenses.
Belichick was the Defensive Coordinator for Bill Parcell's Giants and was running a Cover-2 Zone defense. Saban was the Defensive Backs coach for Jerry Glanville's Oilers preferring to run a Man-to-Man press.
Looking back, Belichick said there were two reasons why he agreed to meet with the younger Saban.
"It wasn't just the secondary, which was his forte," Belichick says. "He knew what the nose guard was doing, and he knew what the quarterback was reading. He knew how receivers adjusted routes based on coverage. He understood all the components of the game, and that was very interesting for me. Because I saw the game that way myself; that everything kind of affects something else."
In other words, Nick had mastered a complete understanding of the fundamentals of football.
Saban went on to say, "We are like we are because of that. We're always trying to learn, to improve the way we do things."
They realized that they did not have all the answers, and both had a drive to discover them.
Out of the most unlikely friendship if all of football, two champions emerged.
And their success is derived from the two things that brought them together.
Mastery of the fundamentals
Life-long drive to constantly improve
I feel fortunate as these two life principles were ingrained in me by many great people over the years.
That's why I spend time each day learning how to better market, sell and negotiate. Even after thirteen years in the business and twenty-three years in sales/marketing.
And I take the time to travel to conferences and train other agents multiple times per year.
Not only do I feel compelled to better myself, I'm driven to empower other folks like you who are trying to navigate the market for themselves.
So, if you want to learn more about real estate in Nashville or just your neighborhood, then give me a call at 615-519-0983.
I look forward to talking with you.
The Daily Deal in Nashville is this fabulous home in McKays Mill [Franklin] with 5 beds, 4 baths, 3 garages, and listed for less than $590,000.