Would you like to own a piece of the show Nashville?
Posted by Steve Jolly on Friday, February 9, 2018 at 9:07 AM
By Steve Jolly / February 9, 2018
Comment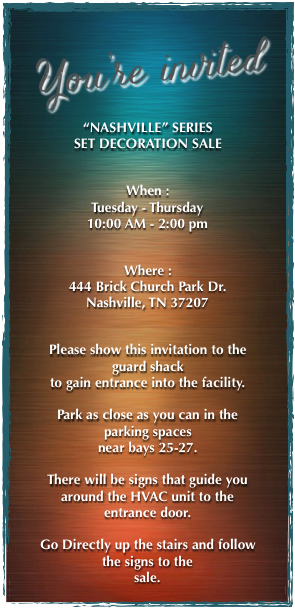 This has not been widely publicized, so I thought you might want to know about it.
Especially if you are fans of the show Nashville
As you probably know, the series is coming to an end.
They have a huge warehouse filled with couches, chairs, tables, dressers, and lighting.
Everything they have used the past 6 years to decorate the sets is on sale.
So not only can you get a great piece of furniture at a great price, it will also have a story behind it.
Maybe you'll find Rayna's couch…
Juliette's mirror.
Or Deacon's guitar.
Anyhow, here are the details
The sale starts next Tuesday, Feb 13 from 10am - 2pm. And continues until Thursday or the last item sells.
They will continue to stock the warehouse as filming wraps up and sets are closed down.
You will need to print and show the attached invitation when you arrive.
It contains more info about the sale including location and parking.
Let me know if you like things like this or if you plan to go.
Have a great weekend!
The Deal of the Day in Nashville is this one level brick home in Spring Hill that is listed for less than $225,000.