Why I won't make promises like this
Posted by Steve Jolly on Wednesday, August 30, 2017 at 11:40 AM
By Steve Jolly / August 30, 2017
Comment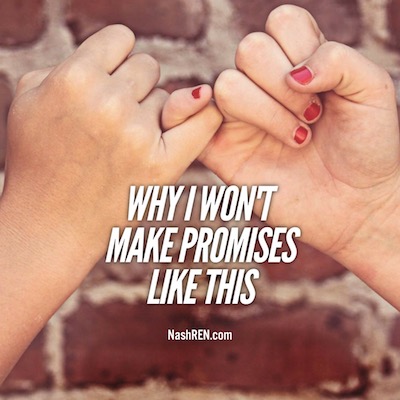 I heard this story from a friend the other day.
They live in an area that is experiencing a low inventory market. Very similar to the one we have in Nashville.
One of their neighbors listed their home for $415,000. It is located in a nice neighborhood, where people rarely move.
Right from the start they received an offer of $405,000. They turned it down because their agent promised that they would get more for the home.
Here's what happened instead.
They did not get any additional offers for the next 30 days. Then they lowered the price. And they did that several times until they hit $395,000.
And they finally accepted an offer at $390,000.
This was a nice home, that was well decorated and had some recent improvements. There was no rhyme or reason why this home did not sell.
One thing that I learned after all these years in real estate (and business) is to never promise something that you can't deliver. Especially those things that are out of your control.
Unless I am writing a check, I would never promise that you would get a specific amount for your home.
It's just bad business.
And setting yourself up for failure.
It's even more important in a market like we have today. We are in uncharted territory with prices and inventory levels in Nashville.
In times like these, people and markets do not act in ways that are accurately predictable. So you have to be fast, flexible and ready to adjust to the forces driving change in our markets.
It's my job to provide you with the best information possible. And back it up with my expert advice. The kind of advice I would give to myself, if I were in your shoes.
Then let you make the best decision for yourself and your family. Free of any promises that would sway you one way or another.
It's not an agent's job to make your decisions. It's their job to help you make the best decision possible given the present situation.
That's a promise that I can deliver.
The Daily Deal in Nashville is a rare, renovated craftsman bungalow in the Nations [West Nashville] that is listed for less than $350,000.