Why AirBnB is on the Chopping Block...and What You Can Do to Help
Posted by Steve Jolly on Friday, January 5, 2018 at 11:29 AM
By Steve Jolly / January 5, 2018
Comment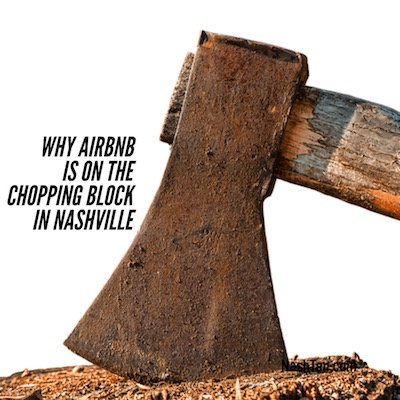 The last time we talked about the fight over Short Term Rental properties was July.
It's hard to believe it was that long ago, but things take time to move through government.
And that's a good thing.
At that time, BL2017-608 was deferred until they gave time for an ad hoc committee to study this issue and develop a compromise.
There was a strong contingent on both sides of the aisle so a compromise bill would seem to be a logical response.
It's also important to remember that this issue would never have become so contentious if Metro Nashville would have properly enforced the current laws on the books.
The ad hoc committee wrapped up their work in September and the compromise bill (BL2017-937) was introduced to the Metro Council on October 3rd, 2017.
A bill has to pass three separate readings of Metro Council in order to become law. The compromise bill passed on the first reading and was referred to several Metro departments for review and approval.
These departments included the Planning Commission and the Planning, Zoning, and Historical Committee.
Based on a variety of recommendations, the original bill was revised and a substitute bill was introduced in November.
The substitute bill had it's public hearing and passed the second reading on January 2, 2018. It's currently set for a final vote on January 16, 2018.
It's also possible that the final vote could be deferred or the bill could be revised again.
Here's what the current version of BL2017-937 would allow:
Short term rentals would be allowed in owner-occupied homes in areas zoned residential.

Current short-term rental would be grandfathered and allowed to renew permits.

Non-owner occupied short-term rentals would be allowed in areas zoned residential if they met the following criteria:
No more than 3% in any census tract within the Urban Zoning Overlay [UZO]
No more than 1% in any census tract outside of the UZO
The number of violations that causes permit to be revoked has been reduced to two
Maximum occupancy has been reduced to 10 people
Must be more than 1,320 feet from any other Non-Owner Occupied Short Term Rental
A waiting period of one year for a new permit when one has been revoked

As confusing as this process is, there is at least one more possibility. Brent Withers, an East Nashville council member has sponsored a competing bill which also passed second reading. BL2017-981 did not come out of the Ad Hoc committee.
This bill would eliminate any new permits for Non-Owner Occupied Short Term Rentals in residential areas, but current permit holders would be grandfathered.
For the record, I am throwing my support behind BL2017-937, the compromise bill. I think the Ad Hoc committee did a great job bringing a bill that is practical, supports the rights of homeowners and respects the peace of their neighbors.
No matter what happens in Metro Council, the ultimate success falls on Metro's ability to enforce the laws on their books. Without the enforcement piece in place, all of these bills will fail in the eyes of the citizens of Nashville.
I encourage you to share your support with your council member and any of the at-large members.
You can find them here: http://www.nashville.gov/Metro-Council.aspx
If you have any questions about these bills or short term rentals in Nashville, just hit reply and I'll get back to you right away.
The Daily Deal in Nashville is this updated brick ranch home in Bellevue near the new One Bellevue Place. This home is listed for less than $325,000.