When is the best time to sell your Nashville Home?
Posted by Steve Jolly on Thursday, September 23, 2021 at 9:14 AM
By Steve Jolly / September 23, 2021
Comment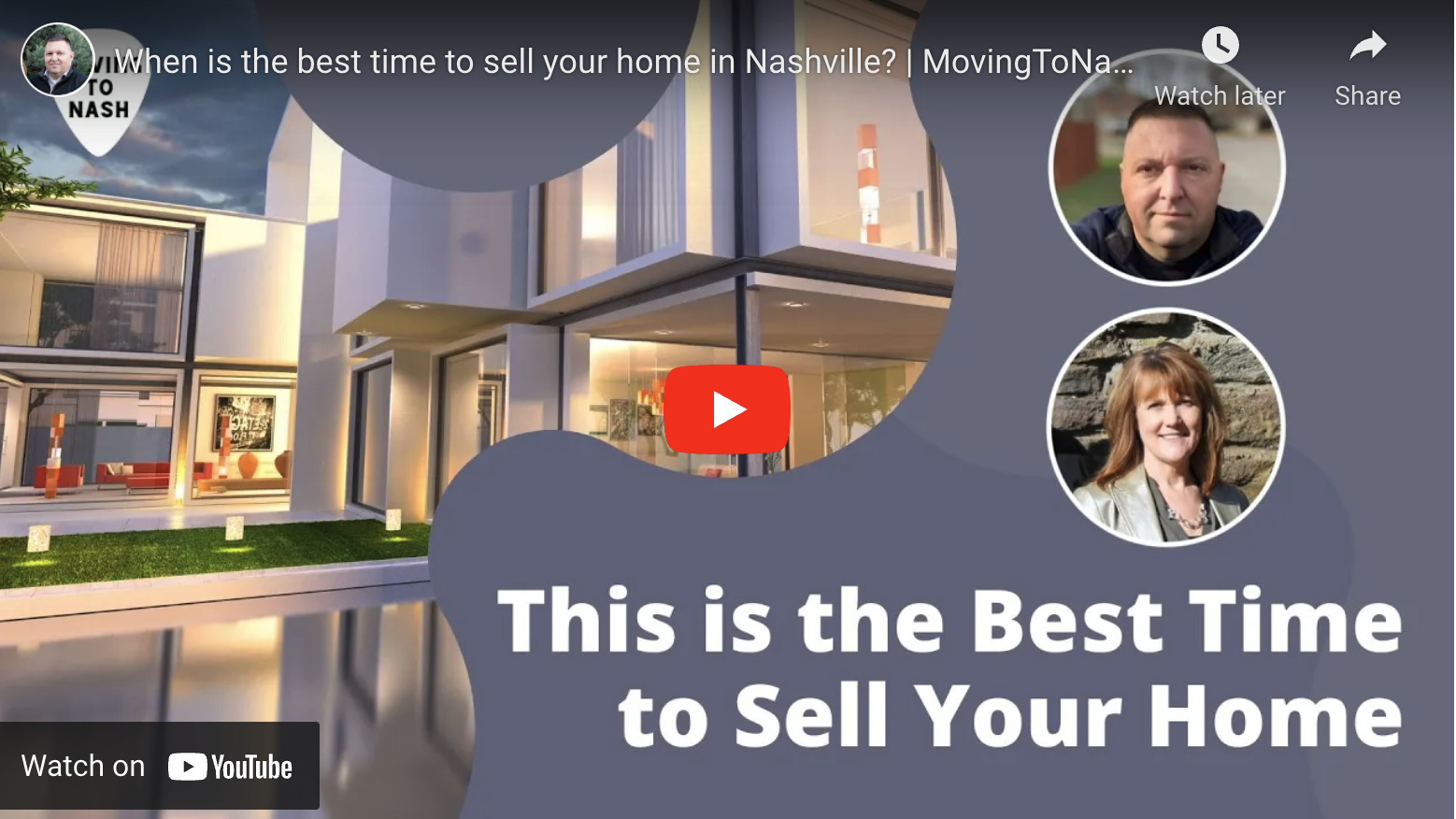 Hey! Steve Jolly here with Benchmark Realty and the Moving to Nash Show. Today I want to talk with you about real estate myths and show you…
When is the best time to sell your home?
That's one of the most common questions in real estate. For all practical purposes in Nashville right now, the best time to sell your home is when you are ready. As I showed you a few weeks ago, only one time in the last forty years has median prices dropped in Nashville.
Let's set that aside and get back to the heart of the question. You want to know from an investment standpoint, when should you list your home.
The customary answer you might receive from an agent is the spring and summer are the best times to list your home. That logic is based on buying patterns that have remained steady for decades.
In this part of the country, people get excited about buying homes in the spring, sales peak in the summer and the market slowly winds down through the end of the year.
In other words, the demand (or buyer competition) is highest in the spring and summer months. The median sales price tends to follow the same pattern.
So, it's really the demand in relation to the supply of homes that dictates when it's the best time money-wise to sell your home.
All this year, we've experienced record levels of buyer activity and fewer homes for them to purchase. And, You can't point the finger at one culprit.
Banks and Builders have taken a cautious approach to single-family development since the Great Recession. Municipalities have made it harder to build. Wall Street has been purchasing homes for rentals by the thousands. Interest rates are at all-time lows. People have been living in their homes longer before moving. A generation of Americans who were enjoying their mobile lifestyle decided to become homeowners when the pandemic hit.
All this and more has our demand/supply ratio way out of wack.
The number of new listings versus the number of sales in a 30-day period is what I call the heat index. And it's a good way to measure the short-term supply & demand.
For the last five years, the heat index has averaged 69. This means that for every 69 homes that sold in the last 30 days, 100 new listings came on the market. Now keep in mind, the last five years of real estate in Nashville have been phenomenal. In 2017, Nashville was the number one market in the country. And all five of those years, we have been a top ten market.
In the best five years on record in Nashville, our heat index averaged 69. Since the beginning of the year, the heat index has jumped into the 90s for Greater Nashville, and today the index sits at 92.
That means for every 92 homes that sold, only 100 new ones came on the market. We're barely replacing the ones that sell right now.
So, anytime in the near future is a great time to sell if you are ready to move.
Now, If you want to sell your home this year, there is still time to make it happen if you act fast.
You can Call/Text me with any questions at 615.257.9996.
However, if you thinking of selling in the next year or two, keep an eye on interest rates. When they start creeping up, and they will soon. The demand will go with it. That's because every 1% increase in rates is equivalent to an 11% loss in purchasing power.
That's all I have for you today. I hope you enjoyed this series on myths in Nashville Real Estate. Next week, I'll be back with a new series of episodes for home sellers.
Peace & Love!!!