What's more important than your principles?
Posted by Steve Jolly on Friday, October 27, 2017 at 3:01 PM
By Steve Jolly / October 27, 2017
Comment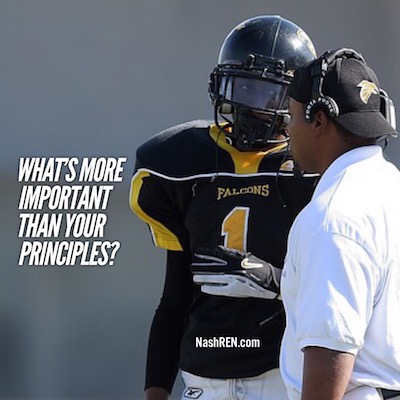 If you are a fan of the Tennessee Volunteer Football team, you probably have heard the frustration with our coach, Butch Jones.
Most people expected that he would be fired by now because we have the worst performing offense in college football this year.
With a string of Top Ten recruiting classes, it's hard to look past the failures of this year's team to put points on the board and "W's" in the win column.
Based on the team's lack of production, you won't see many people argue that Butch should be fired.
While I don't disagree with that last statement, there are many good things that have happened to this program since Butch took over.
Here are three things we can celebrate about Butch Jones' tenure at Tennessee.
First of all is the expectation. People outside of the program and fan base expect Tennessee to be a contender in college football. This has been absent from our program for almost a decade. It helps when you put together three consecutive nine-win seasons and bowl victories. In the SEC, only Jones, Nick Saban and Jim McElwain have done the same over the last three years.
Second, when Jones took over the program, Tennessee was in danger of losing scholarships or post-season bowl games due to the scores in the Academic Progress Reports [APR]. Tennessee made huge strides across the board in academic progress. In addition, the graduation rate of the football team was also improved.
Last, Butch Jones is a man of principle. College coaches are under enormous pressure to win games, even when their butt in not on the hot seat. Jones suspended two of his best players for key games, even though he was not required to suspend them. So far, these games have resulted in losses.
The first is Darrell Taylor who received a multiple game suspended for fighting with offensive lineman during a practice. He is the fastest and most productive defensive lineman on the team. His loss has hurt our ability to sack opposing quarterbacks and make tackles behind the line of scrimmage.
The second is John Kelly who was recently cited by the Knoxville Police Department and has not been arrested. Kelly is our leading rusher and the best offensive player on the team.
In Taylor's case, Jones could have easily picked another form of punishment. Or only suspended him for one game. In his defense, the coach gave him a program to complete and he is successfully working his way back on the team.
With Kelly, Jones simply could have waited for the legal system to play out before he punished his star running back.
Many coaches would have let both play to avoid losing a game and their job without much blowback.
Butch choose not to be selfish in order to help these young men.
The truth is less than 2% of college athlete's ever make the pros. So, it's in their best interest to help these athletes grow into responsible, productive adults.
Butch's principles might help him lose his job at Tennessee, and I hope it helps him get another coaching position working with young folks.
The world could use a few more people like Butch Jones.
The Daily Deal in Nashville is this cute, one-level home in Madison that was built in 1999 is move in ready and listed for less than $180,000.