What You Should Do When The Foreclosures Disappear
Posted by Steve Jolly on Thursday, July 20, 2017 at 1:42 PM
By Steve Jolly / July 20, 2017
Comment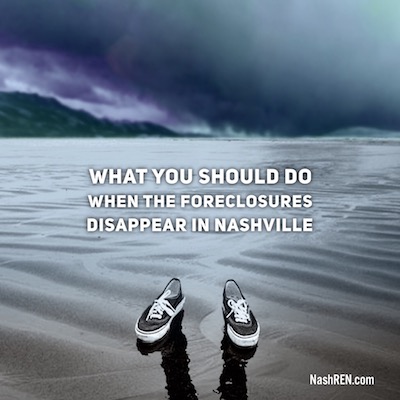 The Bank-Owned (REO) market had been an easy place to find value, until recently.
Although more REO homes appear to be trickling into the system, we are a far cry from where we were just a few years ago.
And that's a good thing.
Here's a quick snapshot of the REO market (with data from one of the largest Asset Management portals)
56,061 REOs are under management across the nation in this portal
734 of these REOs are located in Tennessee
The whole state of TN has fewer REOs than each of the Top 5 Metro Areas in the US
76% of REO properties are sold "As-Is" with no repairs
The average number of offers per REO is 5
And I've had nearly 40 offers on one REO recently.
Compared to places like Illinois, Florida and New York; Nashville has very few properties that are bank owned.
Partially because most people are no long upside down on their loans due to the quick economic recovery and price appreciation. Therefore, they have other options than foreclosure if they cannot make their mortgage payment.
It's also due to the fact that most of the potential REOs are bought by third parties at the foreclosure sale. Therefore, these homes never get the opportunity to become bank-owned and listed in the MLS.
And the last few foreclosure sales that I have attended, people were buying homes at "stupid" prices.
Way more than I would want to risk without being able to see the interior of the home or inspect it.
So, we've been busy digging up deals in other parts of the market.
Places where others are not looking because they are following the trends and not focused on value.
If you have your heart set on value and are not sure where to turn, then hit reply and let me know what you are looking for.
I'll provide you with your best options and my opinion of the available deals.
This way you can see for yourself and not have to take anyone's word.

The Deal of the Day in Nashville is this beautiful duplex in Madison with historic charm that is listed for less than $230,000.