What this retail disaster can teach you about growth
Posted by Steve Jolly on Monday, September 25, 2017 at 12:55 PM
By Steve Jolly / September 25, 2017
Comment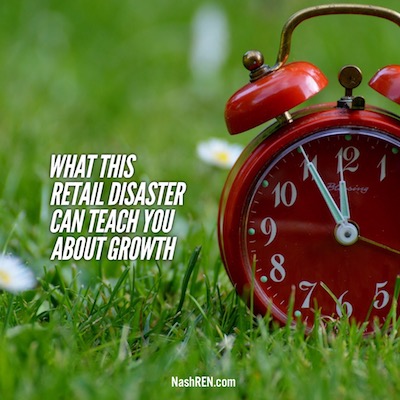 It started on November 6, 1999 back in the early days of the internet. Toys R Us has just launched their online store and offered "Free Shipping" to everyone who bought from the site before Christmas.
This was before "free shipping" was common and shipping a package was costly.
The company also underestimated the demand and were woefully underprepared for the onslaught of orders that they would receive over the next six weeks.
$39 million in orders came in over the next five weeks. Many employees worked seven straight weeks without a day off to help package and ship these Christmas gifts. Even the CEO helped pack orders.
Finally, on December 21st, Toys R Us finally admitted that a good percentage of orders would not arrive by Christmas.
It was a PR disaster of epic proportions.
Not only did they lose many customers for life for ruining their holiday, then ended up sending thousands of people $100 gift certificates to make amends.
Earlier this month, Toys R Us declared bankruptcy.
Christmas of 1999 was the beginning of the end for this company.
And I'm afraid the same thing is happening in Nashville today.
Due to the rapid population growth we are experiencing, new construction is needed to keep pace with the demand from our newest neighbors.
The majority of new construction homes being built in Greater Nashville are priced over $400,000. According to data from the RealTracs MLS, 55% of the active new construction listings are priced above this mark.
While the overwhelming demand is for homes priced below $400,000. MLS data shows us the 72% of sales over the last three months has been for homes prices below this threshold.
We have an imbalance in supply and demand at both ends of the market making it more difficult than it needs to be for everyone.
If we do nothing, the market forces will eventually correct themselves and Nashville will worse off for it.
While we have a few developers that specialize in this market, like Ole South and Kinlock Partners, we need more private developers to join in.
And as a city, Nashville needs to do more in promoting the building of affordable housing without discouraging private development.
Both sides need to work together for an effective solution.
To help our clients navigate these treacherous waters, we've been outworking our competitors to make sure that you get the information on the latest listings first. And coming up with unique solutions to help sellers who are facing stiff competition with new construction.
And it why I serve on the Housing Opportunities and Affordability committee as well as the board of the Greater Nashville Realtors.
The way I see it there is no status quo, you're either growing or you're dying. And I'd prefer growth that we can control for the benefit of everyone in Nashville.
What do you say?
The Daily Deal in Nashville is this brick home in East Nashville [Inglewood] that has been renovated and has income producing potential. The home is listed for less than $350,000.