What happened to the market in January?
Posted by Steve Jolly on Monday, February 19, 2018 at 11:25 AM
By Steve Jolly / February 19, 2018
Comment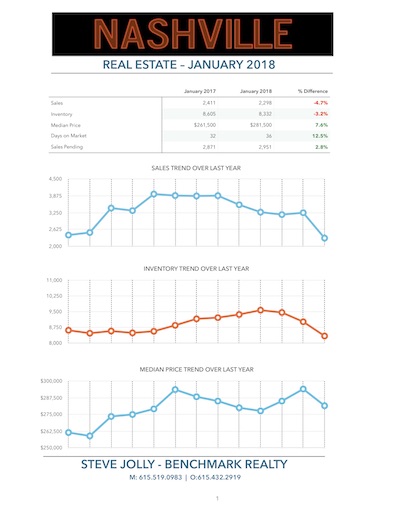 The data from January shows that the market is performing right on target.
Here's the link to the charts:

https://gallery.mailchimp.com/8f7b1db665b88c2aebf8e3e0a/images/1e7a0e6c-cdb5-4ccd-88b8-05e4fd4e3a5b.jpg

While some of you may be surprised at the difference from this January to last, let me explain. January 2017 was the busiest first month that I have experienced in any year since 2006. It was very unusual in that manner.
Some of it had to do with the weather. We were eight degrees warmer than average and hit a high of 72 one day.
This January, not so much.
The warm weather season is just around the corner and I expect things will be hoppin' in March because we are already seeing activity picking up in the last half of February.
So, my prediction for 2018 has not changed. I still expect a great year. Slightly slower for sellers with some relief for buyers.
Besides the economy, our biggest risk is interest rates. They have already jumped significantly this year. The average was close to 4% at the end of 2017 and it's almost at 4.5% right now.
A 1% change reduces your purchasing power by 11%, so keep a close eye on it if you are thinking about moving.
Here's what Sher Powers, President of Greater Nashville Realtors, said about the recent real estate figures, "Though still up compared to January 2017, residential home prices also declined slightly in January. Economists with realtor.com have forecasted home prices to rise in 2018, but with more moderate gains compared to 2017. While we know inventory will continue to be somewhat of a challenge, a slower rise in home prices should be a boost to potential buyers."
If you have any questions about the market, or want to see a market update for your neighborhood, just hit reply.
The Daily Deal in Nashville is this condo in downtown Nashville, just steps from the entertainment district. This building also allows short term rentals. This one will disappear quickly, so let me know if you are interested.