What do you want first?
Posted by Steve Jolly on Tuesday, December 10, 2019 at 9:30 AM
By Steve Jolly / December 10, 2019
Comment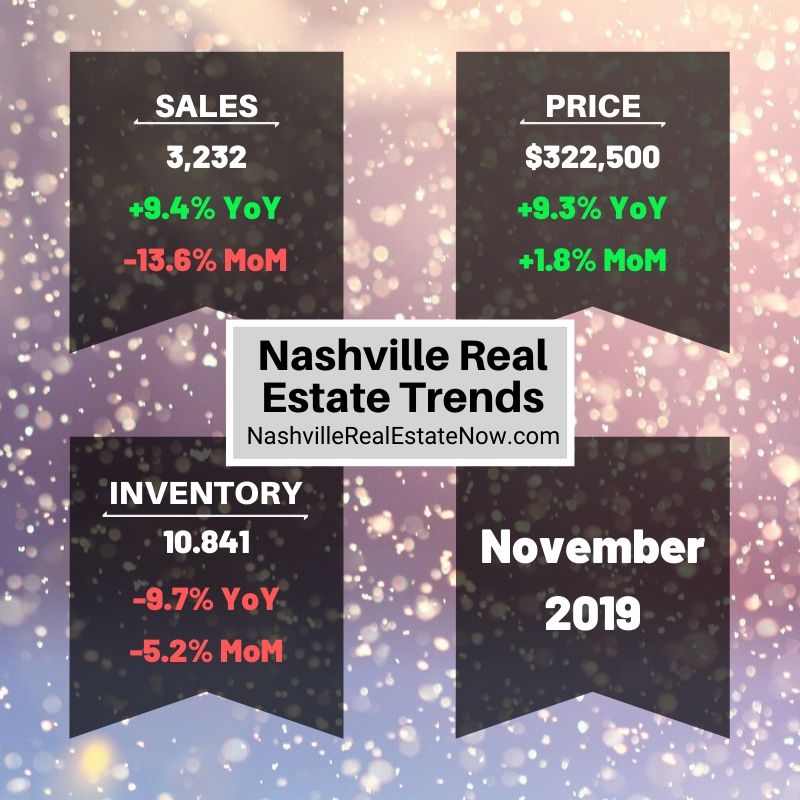 The good news is prices and sales are both up.
In November, there were 3,232 residential sales in Greater Nashville. This compares to 2,954 sales in November 2018 and 3,742 sales in October of 2019.
But don't let that month-over-month decline scare you. Sales totals typically decline this time of year as it is our seasonal slow period. January is rock bottom and its not uncommon to see winter supply at 60% of the summer peak.
Also in November, the median sales price was $322,500 for a single-family home. The median price in October 2019 was $316,702 and last November was $295,000. The price tends to drop less [as a percentage] than supply because the demand also tapers off. I don't expect the average price to drop below $300,000 this winter.
Now…Here's why I'm concerned.
The trend in inventory has been in decline since we peaked in October 2018 at 12,506 homes for sale.
Right now, our inventory of homes is 10,841. That's 9.7% less than last year and a whopping 5.2% less than we had last month. When combined with the news that building permits for new construction are on the decline in this area, it's shocking.
With most experts predicting a recession in 2020, some builders and many bankers started getting cold feet. They can't forget the pain of the last mortgage crisis when they got caught with too many lots and not enough buyers.
I can't really blame them for being nervous as the crisis decimated new home construction in Nashville for five straight years. However, supply never caught up with demand after the collapse and we could be headed for more multiple offers and skyrocketing prices.
The Great Recession was a once-in-a-century event, and no one predicts the same for 2020.
Especially here in Nashville.
Greater Nashville REALTORS® president, Andrew Terrell, said, "The current local market is vibrant and healthy. Job expansion, lower mortgage rates, and higher wages are driving the housing market. If you are looking to buy or sell a home, contact a Realtor. It is critical in our thriving economy to have a Realtor help consumers navigate the market."
If you are considering a move soon and are concerned about the economy, then you've come to the right place. Check out this special report that I put together recently, that shows how Nashville survived the last three recessions.