What did you fail at this week?
Posted by Steve Jolly on Monday, October 9, 2017 at 7:38 PM
By Steve Jolly / October 9, 2017
Comment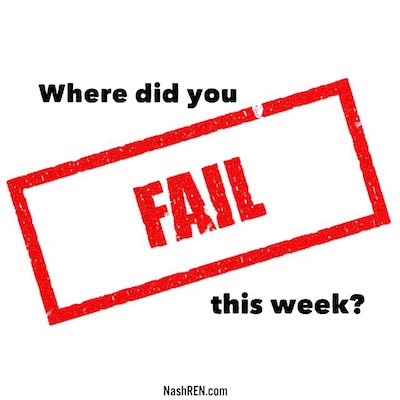 Sara Blakey's Dad asked her the same question every week as a child.
It wasn't about her grades, activities or any of the typical questions someone might get from their parents.
Instead, he asked this question.
"What did you fail at this week?"
And then, after she answered, he would give her a high five.
Through this exercise, she learned that failure was something to reflect upon.
Instead of learning to be scared of challenges, she embraced them instead.
And learned that failure was a step to the next great thing in her life.
Through her life, this lesson served her well.
As a young adult, she wanted to attend law school. Yet she failed the entrance exam twice.
Instead of wallowing in her sorrow, she turned her attention to another idea that she had, footless pantyhose.
For the average consumer, it sounds like another bad idea.\
Right?
Yet her company, Spanx, sold $4 million in the first year and then $10 million in the second. In 2012, Forbes named her the youngest self-made billionaire in the world.
And it reminded me of my own thoughts on failure. The first one you've probably heard me say before.
Don't listen to the naysayers.
I've had multiple breakthroughs in my life by doing things that others said, "Can't be done."
But the other is a little harder to grasp.
I've learned that failing at something doesn't make YOU a failure.
It does not define you in any way.
Failing is only a result of your efforts.
Nothing more.
And you are so much more that one out of a million results in your life.
The Daily Deal in Nashville is this cute cottage in Hillsboro Village [Near Vandy]. It's fully renovated and ready to move in with a full basement and detached two car garage. And, it's listed for less than $480,000.