Warning: All you bachelorettes better behave in Nashville
Posted by Steve Jolly on Monday, September 18, 2017 at 2:49 PM
By Steve Jolly / September 18, 2017
Comment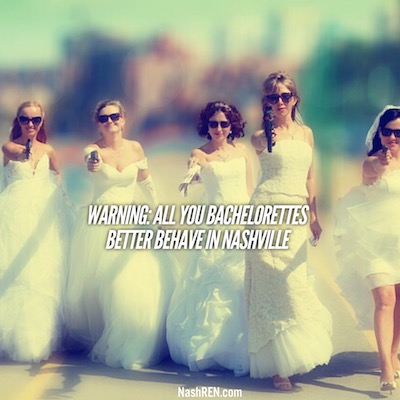 Fair warning to all the bachelorette parties in Nashville, there is a new sheriff in town.
Earlier this summer, Vice Mayor Briley created an Ad Hoc Committee of the Metro Council to study the problems with these properties and make reccomendations to the the pending bill. He also set a September 30th deadline for this committee to complete their work.
While we haven't heard much since July, we did get one announcement from the Mayor's office last week.
Nashville has hired a company to help resolve nuisance complaints and un-permitted rentals and they set up a consumer hotline.
The name of the company is Host Compliance and are considered to be the nation's leading experts in this field. They currently provide similar services to more than 70 communities across the United States.
Citizens of Nashville can report by calling the hotline or filling out a form online. The hotline is staffed 24 hours a day, severn days a week. And Metro requests that all complaints be made to the hotline.
The number is (435) STR-HELP (787-4357).
And the website: https://hostcompliance.com/tips
Until now, Metro did not have an effective way to monitor compliance as reports could go to a number of departments. And their was not an easy way to find advertisers who were operating without permits. This service gives Metro the tools needed to hold both the operators and guests accountable for their actions.
With the new operations, neighbor can speak to a compliance officer at any time who will listen to their concerns and attempt to correct the problems immediately.
While this new service won't completely solve the problem, it should drastically cut down on the number of un-permitted and troublesome properties.
Some estimates put the number of advertised properties in Nashville at twice the number of homes that have been permitted. Not only is that unfair to the business owners who are doing it right, it could put visitors in a dangerous situation.
I'm looking forward to this committee wrapping up their work, and seeing their recommendation. Hopefully, that will happen in early October.
Until then, I'll keep you in the loop.
And if you are wondering why I picking on bachelorettes today? It's becasue they made this Bizarre Top 10 list here:
http://www.nashvillerealestatenow.com/blog/top-10-bizarre-reasons-why-nashville-should-ban-airbnb/

The Daily Deal in Nashville is this one bedroom condo located off West End that needs work and is listed for less than $175,000.