Verify then trust
Posted by Steve Jolly on Tuesday, August 1, 2017 at 12:30 PM
By Steve Jolly / August 1, 2017
Comment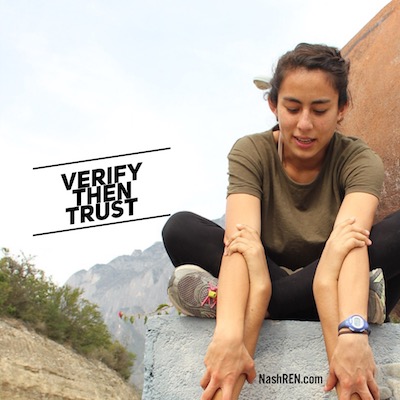 Here's a story about trust.
I received a call from a prospective buyer for one of my listings. The called to ask about my latest bank-owned listing and to see if it was under contract.
I explained that is was still available and that it would not last long.
She asked if we had multiple offers and when they were due.
That was a clue for me because it is not a question that I typically get from buyers.
I expected that this person had some inside knowledge and was fishing for more information.
I continued to answer all of her questions.
And then this happen.
She confessed about the true nature of her call.

She said that she felt like that she was "getting the run-around" from her agent and wanted to verify what they said.
I have no problem with the second part. It's wise to verify the credentials and information that you receive from those who you work with.
Ronald Reagan said it best, "Trust, but verify."
(It's actually a translation of an old Russian proverb, but I digress)
Here's the biggest problem that I saw with this buyer.
She did not fully trust the agent that she was working with.
Yet, she wanted to hire this person to help her make one of the biggest purchases in her life.
I'm not certain why there was a lack of trust. Maybe, she had just met the agent. Or something else happened along the way to make her think that way.
If it is the latter, then she needs to rethink her game plan.
If someone gives you a reason not to trust them, or those red flags suddenly pop up in your mind. Listen to your intuition. Don't ignore it.
Follow that lead until you are satisfied with your answer about trustworthiness.
And that goes for me too.
If you can't trust me to work in your best interest and help you avoid mistakes, then you should work with someone else.
I will understand completely.
And promise to do the same with you.
The Daily Deal in Nashville is this ranch home in Hendersonville that has 3 bedrooms, sits on 0.34 acres and is listed for less than $160,000.