Top 3 Housing Market Predictions for 2022 - Nashville
Posted by Steve Jolly on Thursday, January 13, 2022 at 5:31 PM
By Steve Jolly / January 13, 2022
Comment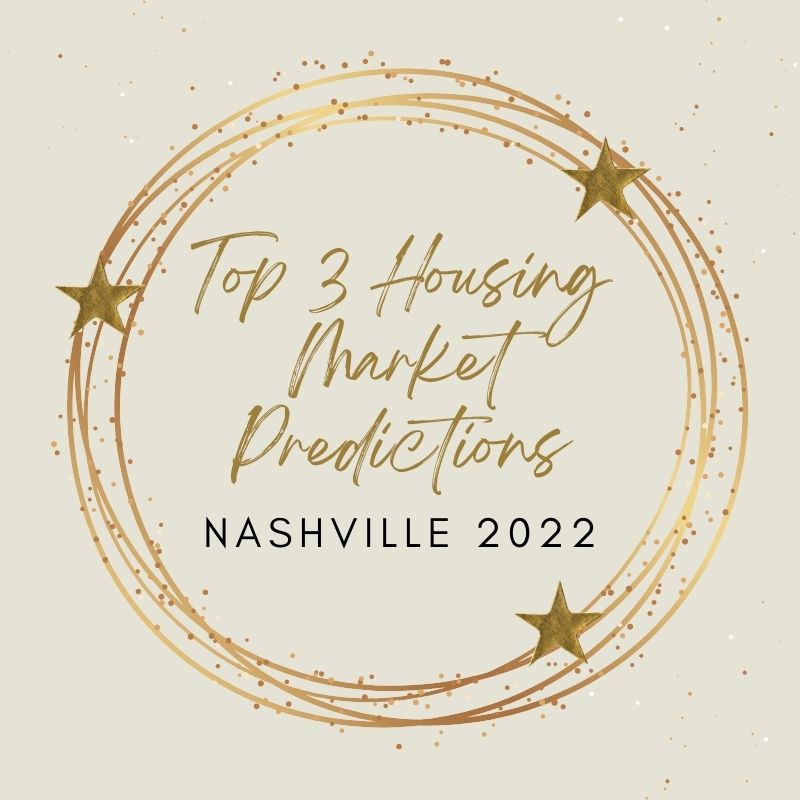 Today on the Moving to Nash Show, we going to kickoff the new year with my Top 3 Housing Market Predictions for 2022 in Nashville. If you're thinking about moving in the near future, then this show was made for you.
My first prediction is that housing inventory, or the supply of homes for sale, will continue to be the number one problem in Middle Tennessee for the foreseeable future.
This supply imbalance was caused by a number of factors including an increase in demand for single-family homes, a decade of below-average new home construction, record low interest rates, and an anti-growth sentiment in many communities.
Experts estimate that it will take five years for new construction to catch up with demand across the country, and it could take even longer in Nashville due to number of people and jobs moving our way.
#2. Nashville real estate will continue to appreciate, but at a slower rate than last year. In 2021, the median sales price of a home in Nashville rose 22.4% from $339,000 to $414,900. Experts predict home value increases in 2022 will range from 6% up to a high of 19.8% locally.
While that sounds amazing, double-digit appreciation year-after-year is not healthy for our real estate market. Due to action recently announced by the Federal Reserve Bank, I expect appreciation to be closer to 8 - 10% this year. This is still above our 10-year average of 7.2% annual appreciation for single family homes in Greater Nashville.
If you are waiting for a downturn in the economy to buy you next home, just know that prices appreciated in Nashville during five of the last six recessions going back to 1979. Price appreciation, or the rate at which prices increase, is expected to slow down from last year, however, I would not expect home prices to go down in value anytime soon.
#3. While the supply of homes remains our number one problem, the biggest risk to the market is rising interest rates.
In December, the Federal Reserve announced changes to their monetary policy of keeping rates artificially low to fuel the economy. These changes will lead to an increase in interest rates which destroys a buyer's purchasing power.
A one percent increase in interest rates reduces buying power by eleven percent. For example, if you were pre-approved to buy a home for $500,000 and the rates went up by 1%, your new pre-approval amount would be reduced by $55,000 to $445,000.
That's a lot to swallow in a rising market.
To recap, the top three trends for Nashville Real Estate in 2022 are Low Inventory, Slowing Price Appreciation, and Rising Interest Rates.
If you are considering making a moving in 2022 and have questions, please call or text me at 615.257.9996.
I look forward to sharing my knowledge with you.
Here's what one of our recent clients had to say about us.
"Steve is simply amazing. Professional, expert, client service oriented with a huge dose of going above and beyond."
Next week on the Moving to Nash show, we will start a new series for home buyers and talk about how we help you move into your new home this year.
Take care!
Peace & Love y'all