This Strange Thing Was Just Discovered During An Inspection
Posted by Steve Jolly on Monday, July 24, 2017 at 12:41 PM
By Steve Jolly / July 24, 2017
Comment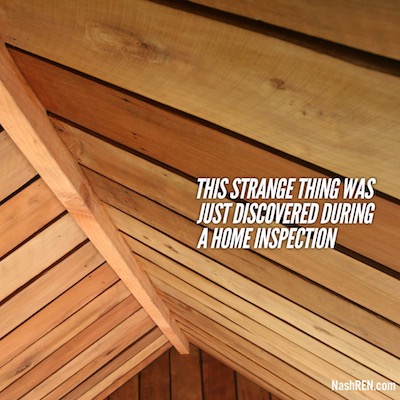 The inspection contingency is a weird time period during the purchase of a home.
The days might seem like a long time at first, but it's over before you know it because there are so many things that need to happen in order for you to satisfy yourself on the home purchase.
And this is the only time that you get this opportunity, so it's best to check everything that is important to you.
During this time, I recommend that you re-read the Disclaimer that you signed with the offer. It is a good to remind you of the things that you need to check during the inspection contingency.
Here's a partial list of items to consider
Home inspection
Structural
Condition of the roof
Termites and other pests
Environmental hazards like radon, mold and lead
Square footage
Value
Property lines
Zoning
Available utilities
Flood zones and insurance
School zones
Crime and safety
With a list like this, it's easy to understand why you might miss something or take something for granted.

For example, high speed internet access. While most of us take this for granted, it's not available everywhere at the speeds we desire. So, it's one thing that you might not think to double check, even though utilities are on the list.

Another is insurance. There is a national database of insurance claims and information that can sometimes bite people when they least expect it. That's why I always remind my clients to get a quote during the inspection period. If not, then it's too late to do anything later.
Fortunately, clients follow my advice. One recently discovered (through their insurance agent) that the shingles on a home are involved in a pending lawsuit because they are defective. And the insurance agent could not cover the roof of the home until it was replaced.
If it would not have been discovered during the inspection period, it could have caused big problems for my clients.
Anytime you buy a home, address all of your concerns before the inspection contingency ends. It's the best way you can protect yourself from the strange things that are uncovered when we perform our due diligence correctly.
If you have concerns or questions about home inspections, hit reply today. If I cannot answer your question, I have a network of professionals who can.
The Daily Deal in Nashville is a cute bungalow in Historic Edgefield [East Nashville] that is close to Five Points and listed for less than $400,000.