This list is important to the future of Nashville
Posted by Steve Jolly on Friday, February 23, 2018 at 12:11 PM
By Steve Jolly / February 23, 2018
Comment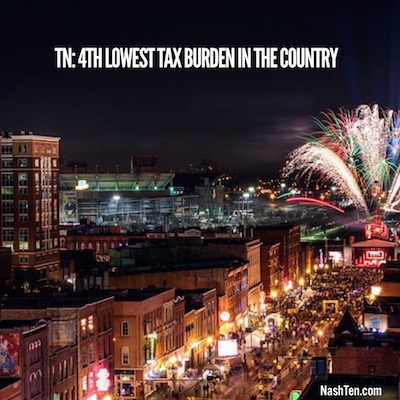 I'd be lying if I said this was NOT one of the reasons why I love living in Tennessee.
In a recent report by the tax policy research organization, Tax Foundation, they looked at the tax burden in every state. And then ranked them from lowest to highest.
The lowest taxable amount averaged 6.5% for one state with a high of 12.7% for another.
Where do you think Tennessee fell on this list?
We hit a solid #4 on the list of states with the lowest tax load with an average of 7.3% of income.
It's mostly due to the lack of a traditional state income tax and lower than average property taxes.
At the time of the study, Tennessee had a tax on dividends called the Halls Tax, that has since been repealed.
That placed us as the eighth lowest state for income tax on the list with an average of $46 per person.
We are the seventh lowest state for property tax with an average cost of $830.

Tennessee relies mostly on sales tax for revenue. In that category, we are the 18th highest on the list with an average of $922 per person spent each year.
And that's not even the best part.
As a state, Tennessee is in great financial shape.
According to Truth in Accounting's review of the most recent financial filings, Tennessee has enough to pay all of its bills plus $4.1 billion in reserves.
And all this is what gives me hope about the future of Nashville.
People are moving here for jobs, opportunity and a better quality of life.
Others want to visit us because of the beautiful scenery, the quality of entertainment and our famous hospitality.
Companies want to relocate here for all the same reasons.
Even if we have another national crisis that brings down the national economy, Tennessee will fair better and bounce back quicker than most others.
If this doesn't put a spring in your step about Nashville, then nothing will.
Have a great weekend!
The Daily Deal in Nashville is this beautiful home in Sullivan Farms [Franklin} that is listed for less than $475,000.