This is what you'll find in the fine print
Posted by Steve Jolly on Monday, August 20, 2018 at 10:12 AM
By Steve Jolly / August 20, 2018
Comment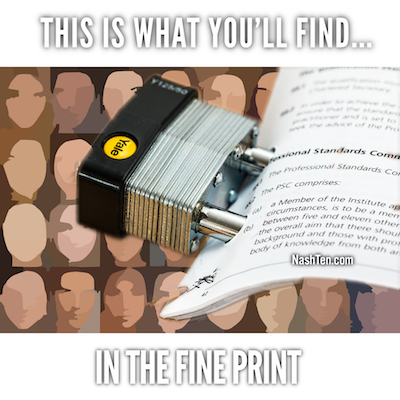 Tomorrow, I will be speaking in Atlanta about building business relationships. Other than helping you solve your real estate problems, this is the most important part of my job.
And the last thing that I want to do is mess up that relationship by doing things that might leave a doubt in your mind. Like making a big promise and then pulling back on my words with the fine print some lawyer wrote.
You know all those details that can keep you from receiving what you thought you were promised.
For example: On the site of a national discount broker, they proudly proclaim to sell your home for as low as a 1% listing fee. In order to find your true cost, you need to dig into the fine print and read through a table for your city.
This is what you will find:
The 1% listing fee is offered in less than 40% of the markets they serve.

Every city has a minimum listing fee. It's currently $4,500 in Nashville

The listing fee does not cover the buyer's agent fee you pay (2.5% - 3% of the sales price)

If the buyer does not have an agent, the listing fee is increased by another 1%

All this is in the details for home sellers.
The particulars in the refund program for buyers clearly states the refund is not guaranteed and gives multiple ways for it to be canceled by the broker. In fact, buyer refunds are not legal in Tennessee and several other states.
This is the opposite of how I want to be treated. I want to know up front, in clear English, the exact cost for the services that I pay for.
With no gimmicks. No tricks. No way to increase my cost at a later date.
And that's why my agreement with you is easy to understand with no minutiae to comb through.
My mission in business is to treat you how I expect to be treated. Nothing less.
I hope you feel the same way.
Tomorrow, I hope to convince agents that they don't need to play games to win in this business. That solving problems and building relationships are what you want us to do.
So, hit reply and share some words of wisdom with my colleagues. And what a real estate business based on relationships means to you.
Thank you for responding!

The Daily Deal in Nashville is this cottage in Inglewood [East Nashville] that is renovated, has an in-law suite and is listed for less than $300,000.