This is what you do when everyone is distracted
Posted by Steve Jolly on Monday, December 11, 2017 at 7:07 PM
By Steve Jolly / December 11, 2017
Comment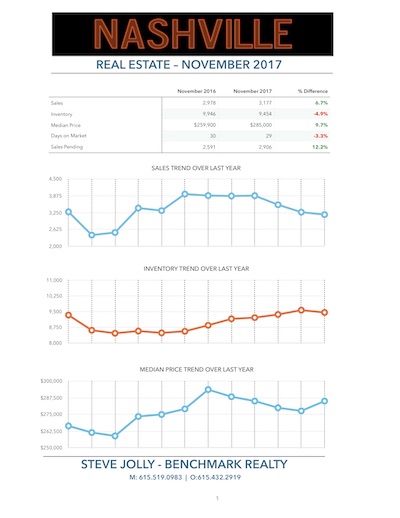 One of the great things about working in real estate is that you never know what to expect.
It's always something new every day.
And that's great for people like me that get bored doing the same thing.
I'm seeing a change in the market as we get close to the end of the year.
Usually, we would expect the market to be slowing down in terms of sales and median price. And we would expect to see the inventory trending upward.
If anything, the last decade taught us there is no "normal" in real estate.
Here's what I am seeing now. (And you can see it too in the attached chart)
The median price increased by $7,358.
Inventory dropped by 1.1%.
If only one of them had changed, I probably would not have thought much about it.
But with both changes and my experiences in the last week, I think there is still a lot of interest in the market this holiday season.
In the past, you've usually heard me talk about some of the amazing things that happen in real estate this time of year.
Like the time one of my clients picked up a property at nearly half off because the rest of the world was distracted.
Now I wouldn't expect that kind of miracle this year.
I would keep this in mind instead.
Most people buying or selling this time of year are serious and your competition is scarce.
Things can happen quickly, so you've got to be ready to move fast.
Like this home I put on the market at the end of last week.
I wanted to share it with you as today's Daily Deal.
But it's done been dealt.
That's right.
No longer available after a few days on the market.
So...
Here is the market data for last month:
https://gallery.mailchimp.com/8f7b1db665b88c2aebf8e3e0a/images/544283c5-7fa6-4c35-ba6d-4819680b7679.jpg

If you want to get involved in one of the hottest markets in the Nation then hit reply or give me a call.
Looking forward to talking with you.