This is what to expect from a John Cooper victory
Posted by Steve Jolly on Monday, September 9, 2019 at 8:35 AM
By Steve Jolly / September 9, 2019
Comment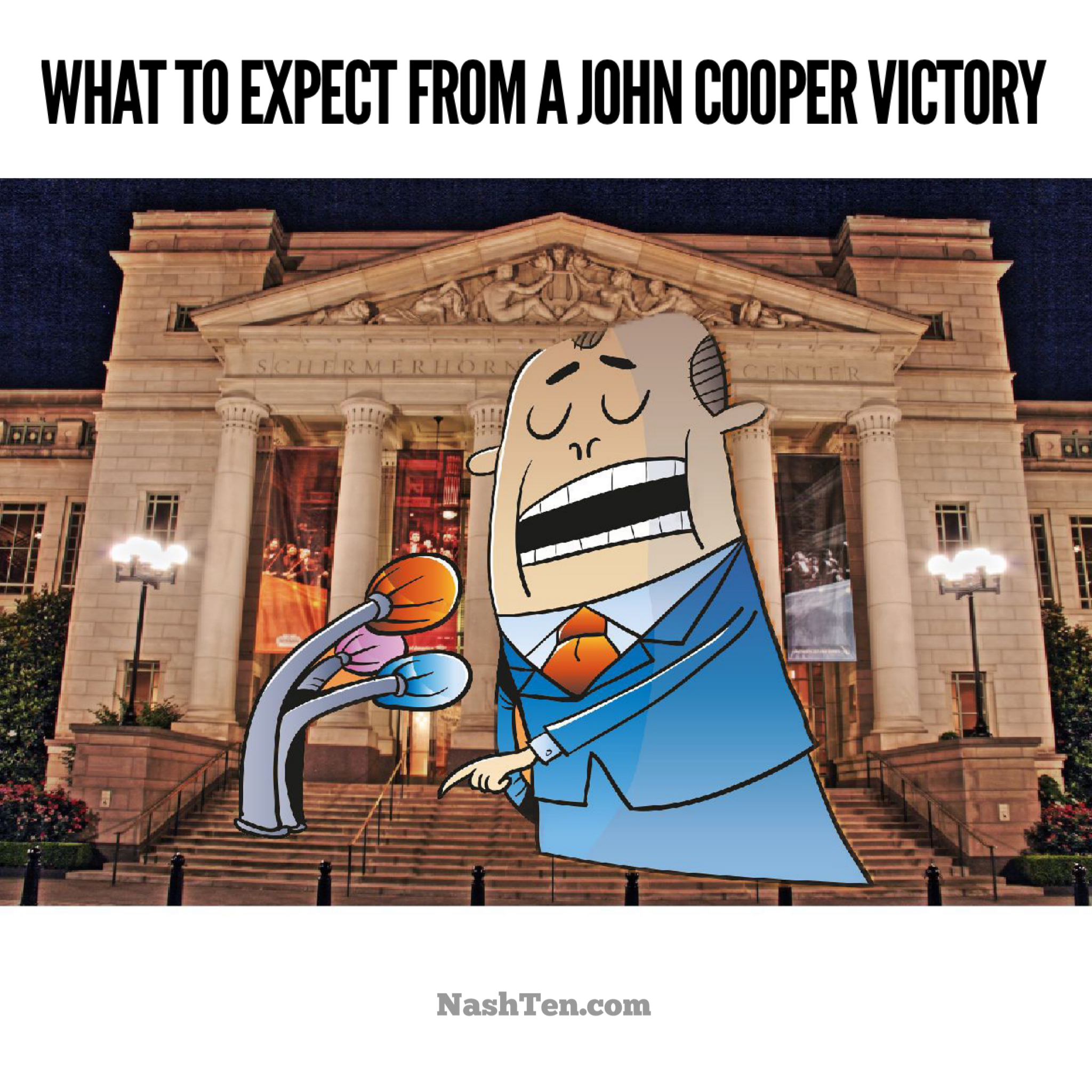 With Friday's news about the fundraising effort for the runoff vote and the strong showing in August, it appears that John Cooper is going to be Nashville's next Mayor.
During the regular campaign, Cooper was largely self-funded and referred to it as the "Bredesen" model. That appeals to the average voter who wants a candidate that isn't obligated to special interests.
During the runoff, Cooper raised $628,478 and loaned his campaign another $350,000. Briley raised $352,429 over the same period with no loan.
And this is after Cooper beat him by 10 points in the general election.
So, it's easy to see why Cooper changed from a strong contender to solid front-runner.
This is how John Cooper plans to separate himself from Briley's administration, straight from his policy book.
At the forefront of his campaign has been a focus on neighborhoods and community versus downtown. John outlines the recent deals Metro made to attract luxury hotels, 5th & Broad, Nashville Yards and other developments. And thinks we overpaid with millions in incentives.
He's not the only business leader who believes Metro got the short end of the stick.
Instead, he wants to turn the spotlight back to communities in the form of investments in education, housing affordability, transportation, and infrastructure.
All while improving fiscal accountability to the public.
This also strikes a nerve with the average voter. In a time of strong economic growth, it doesn't make sense that Nashville struggled to meet their budget this year and postponed raises promised to our teachers, police and other city employees.
How will this change affect Nashville's future growth?
It's hard to say, but I don't expect Nashville will stop attracting businesses anytime soon. And it's a good thing to bring some focus back to the neighborhoods that make Nashville one of the best places to live.
With Briley, I would expect more of what we have right now with one exception.
The one thing I know for sure, whoever wins will raise property taxes. It's the only way they are going to balance the budget and meet the immediate needs of a growing city in the short term. Nashville has only seen one increase in the last decade and that was in 2012.
Now don't get me wrong. This is not an endorsement of either candidate on my part. This is what I expect to happen after the final vote is cast.
If you have a question about the Nashville market, then I'd love to talk with you. Just send a message and tell me what's on your mind.