This Is The Next Best Thing To Cash In Real Estate
Posted by Steve Jolly on Friday, August 3, 2018 at 1:52 PM
By Steve Jolly / August 3, 2018
Comment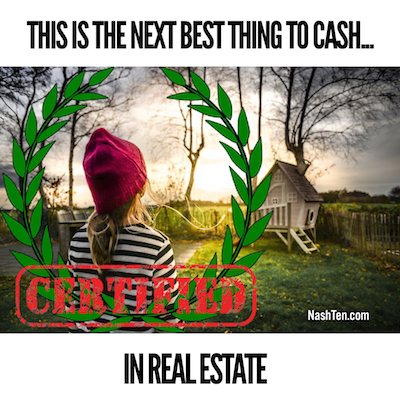 You've heard the old saying that Cash is King.
Well, what do you do when you have a ton of competition for the same home and you don't have the purchase price in your savings. You do the next best thing, and that is…
A Certified Homebuyer Program.
What is it exactly? That's a good question. When a traditional lender takes a look at your contract to buy a home, they first approve your personal ability to repay. And then they approve the home to be purchased.
The biggest chunk of the bank's work is in approving your ability to pay back the loan. And that's why so many mortgage companies wait until you have a home under contract before they started the approval process.
Then this started becoming a problem for home sellers.
Buyers would get a home under contract and then it would fall through at the last minute for something minor in the financing. Something that should have been caught at the beginning.
And homeowners began to see pre-approval letters as worthless.
So a couple of smart banks began offering the Certified Homebuyer program. This means that they did the tough work of fully approving the buyer before they put an offer on a home. On day one, they pull your credit, review your financials and verify your employment.
Which provides home sellers with confidence that you can make it to the closing table.
It's the next best thing to Cash.
I recommend it to anyone looking to buy a home in these market conditions. It's been the difference maker more than once for my clients when they were up against more than one offer.
And it can speed up the time to close by two weeks.
Instead of waiting 35 days to close, you can be in your home in 21 days or less.
It's a game-changer.
If you want to learn more about the Certified Homebuyer Program (and get referrals to local lenders who offer it), then hit reply and I'll send it right out to you.
Otherwise…
The Daily Deal in Nashville is this wonderful ranch in Woodbine [South Nashville] that is move-in ready and seller for less than $225,000.