This is the new reality for Nashville Real Estate
Posted by Steve Jolly on Tuesday, September 11, 2018 at 8:42 PM
By Steve Jolly / September 11, 2018
Comment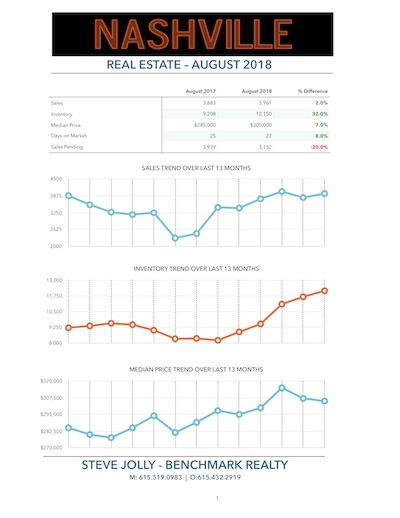 The market is changing. After five straight months of inventory increases, there is no doubt about it for me.
It's not a bad thing.
In fact, it is healthy for markets to go through cycles. It helps you trim the fat and make better decisions. Before we talk about how you should react, let take a look at the realities of the market.
The statistic that has most people worried is the increase in inventory. While an increase of nearly 3,000 more homes on the market over the last year seems huge. It's less than one month of sales at the current rate.
One year ago, we had 2.37 months of inventory for sale. Today, we have 3.06 months of inventory for sale. In Nashville, anything less than three months of inventory is a seller's market. Three to six months of inventory is a balanced market. Over six months is considered a buyer's market.
Now, I'm not ready to declare a balanced market, though we are headed in that direction. A balanced market means that supply and demand are equal.
This type of market is less stress for everyone involved.
Buyers won't feel the need to win at all costs because they will have more options to buy.
Homeowners won't be inundated with showings so they will need more patience and preparation.
It's also the time of year, where you expect inventory to start decreasing. So, it will be interesting to see what happens through the end of the year. Much of the increase in inventory is NOT new construction. So it could disappear quickly if people decide to put off sales until the spring.
Homeowners feeling the end of the "seller's market" have been inspired to list their homes. Many of them feared not being able to find their next home and stayed on the sidelines.
Not anymore.
You can get the full market trends report here: https://gallery.mailchimp.com/8f7b1db665b88c2aebf8e3e0a/files/3105da7b-c769-4615-b9ad-36fce38591e8/Nashville_Real_Estate_Trends_Aug_2018.pdf
Greater Nashville REALTORS® President Sher Powers said, "As inventory shows moderate increases across Middle Tennessee, the market is calming and offering more home options for buyers, which has inspired new buyers to step into the market and more sellers to list their homes,"
All of this leads me to ask you this important question. What are your real estate plans over the next few years?
If you are considering a change, then let's put together a game plan that fits your needs. And takes advantage of this record-setting real estate market.

The Daily Deal in Nashville is this historic cottage near downtown Franklin that's renovated and listed for less than $450,000.