This Is Strange...And Here's The Whole Story
Posted by Steve Jolly on Tuesday, August 28, 2018 at 1:25 PM
By Steve Jolly / August 28, 2018
Comment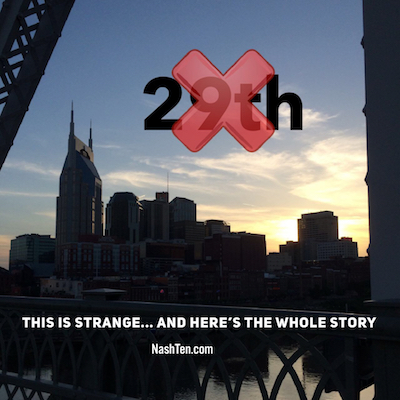 There was an article in today's USA Today that ranked the economy of every state and listed them in order. And I found what they said about Tennessee very interesting.
First of all, the article was written by 24/7 Wall Street. And like any story, there is always bias. But this one doesn't even match their own numbers.
Weird.
Here's what they did and how they did it.
Tennessee was ranked 29th out of the 50 states. The low ranking got my attention because this state is booming. Nashville was the hottest real estate market in the US last year. Housing is the largest single component of the GDP.
Tennessee was recently ranked #1 in Automotive Manufacturing Strength. Another huge contributor to the GDP.
And we have the third lowest tax burden on citizens in the country.
The TN ranking breakdown in the USA Today story looked like this:
5 year GDP Annual Growth Rate - #11( 2.0%)
2017 GDP - #19 ($297.8 Billion)
June 2018 Unemployment - #17 (3.5%)
5-year Annual Employment Growth Rate - #13 (1.7%)
That should give us a solid #15 rank among the states. About what I expect for our size. But the writers also looked at poverty and the education level of the workforce. They didn't rank those factors per state so it gives them the opportunity to stack the results as they see it.
And these factors have a secondary effect on the economy, so they are hardly the reason to discount our success so drastically.
And, they didn't even factor taxes in the rankings of the states economies.
Hmmm…
You have to be careful what you read in the news about the state of housing. All of it has some bias, and much of it is old information.
If you want the inside scoop on Nashville with enough data to back it up, then give me a call today.
My promise is to give you the whole truth without holding anything back.
Here's what Bruce recently said about working with me:
"Steve's service was outstanding from the start of my search through closing and after. He is a consummate professional who puts his client's interests ahead of his own. He's extremely knowledgeable about all facets of real estate and I will definitely use him again in the future."


The Daily Deal in Nashville is this Historic Bungalow that's been foreclosed near downtown Murfreesboro and is listed for less than $160,000.