This is one of the strange things you'll find in Nashville
Posted by Steve Jolly on Wednesday, September 13, 2017 at 1:14 PM
By Steve Jolly / September 13, 2017
Comment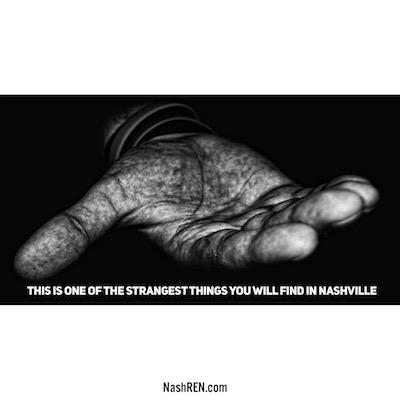 Locked within a vault hidden deep inside the Tennessee State Museum in downtown Nashville is this 200 year old piece of history.
The curator only brings it out once per year because it makes adults scream and children run for cover.
It once belonged to a convicted bushwhacker who burgled and terrorized people all along the Natchez Trace and Mississippi river.
After he died, it was removed from his grave and put on display at circuses and carnivals all over the south.
What is this bizarre object?
It's the pickled thumb of John Murrell.
John might have been the most famous outlaw that you never heard of. The story of his buried treasure was immortalized in The Adventures of Tom Sawyer. Injun Joe found John Murrell's treasure and it was claimed by Tom and Huck at the end of the story.
John's most famous hustle was to pretend to be a traveling preacher. While he was giving a sermon inside the church, his gang would steal all of the horses outside.
This gang came to be known as the Mystic Clan, and numbered from 300 to more than 1,000 members.
In 1834, his past finally caught up to him and he was sentenced to 10 years in the Tennessee State Prison in Nashville.
Prison life was hard on John. He trained to be a blacksmith while incarcerated and was routinely held in solitary confinement.
We don't know much about the end of John's life and what happened to him after he was released from prison.
One story goes that prison broke John mentally and he retired to the life of a blacksmith in Pikeville, TN.
Others claim that John became a reformed, church-going man and worked as a carpenter until his death in 1844.
These stories remind of the tales that you hear about real estate and the market in Nashville.
Some of them are true. While others are filled with hearsay and innuendo.
The trouble with John Murrell's story is that it happened so long ago, that it is impossible to verify the accounts.
But not with real estate.
We have tons of data from reliable sources that can answer almost any question that you have.
The problem might be that we have too much data for the average person to know where to look to find their answer.
And that's where I can help.
Not only will I provide the answer to your question, but I will also send you to the source. So you can check it out for yourself.
Sounds good?
Then hit reply and send me the most troubling real estate question that you have and I'll give you the best available answer.
And if you want to see John's thumb, then go to the Tennessee State Museum on Saturday, October 21 for their Haunted Museum from 10am to 2pm. The best part: It's FREE.
The Daily Deal in Nashville is my latest listing in Blackman Farms [Murfreesboro] that is in a convenient location, ready to move in, and is listed at $249,900.