This is how New Construction weakens your home sale
Posted by Steve Jolly on Monday, August 26, 2019 at 12:30 PM
By Steve Jolly / August 26, 2019
Comment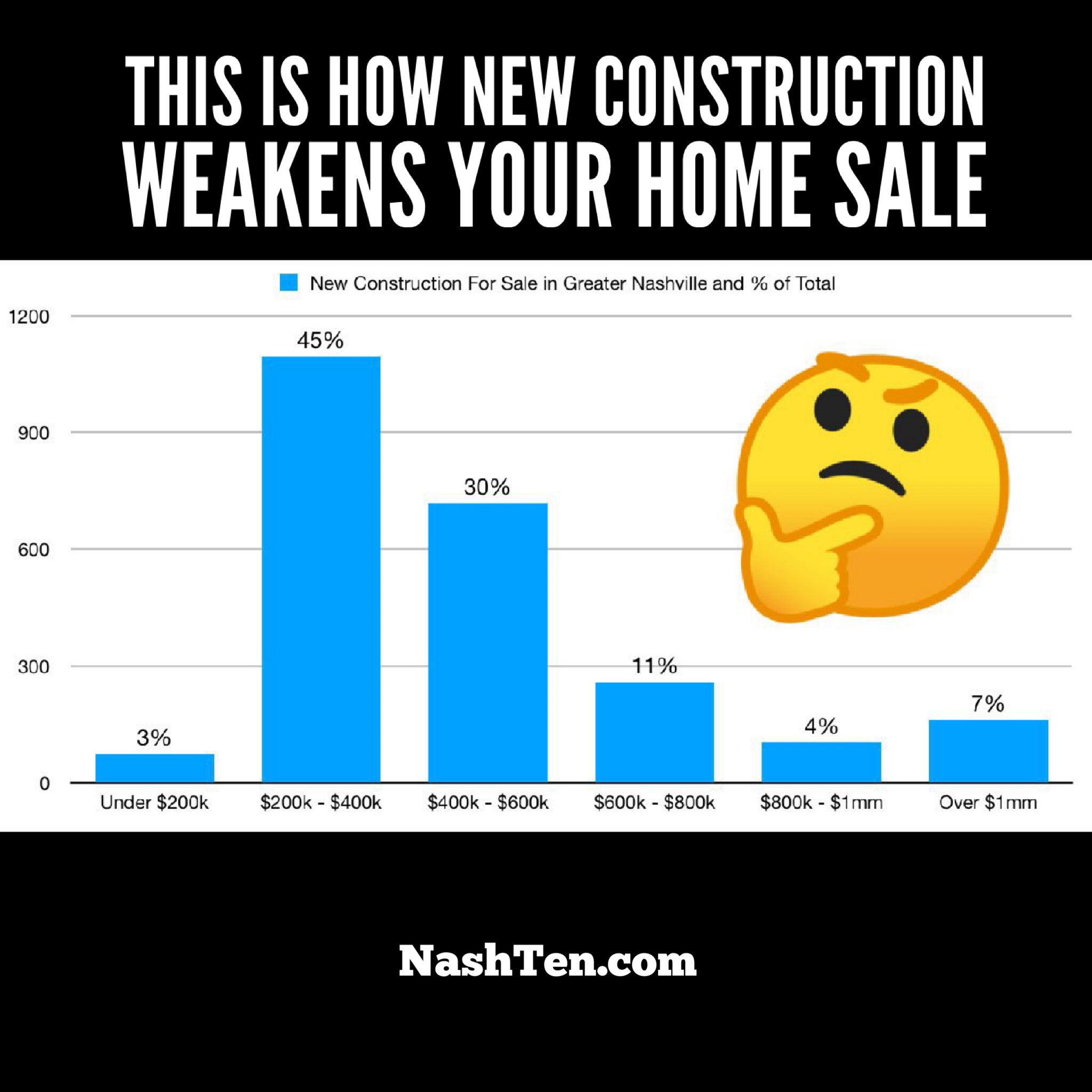 Let's face it.
If you could choose between two similar properties at the same price, you would likely choose one that is newer over one that is 20 years old. Especially, if they are in equally desirable locations.
Now, these new construction situations often sneak up on you, so let's talk about what you can look for, and things you can do to overcome the problem.
The first situation (and most common) happens when you buy in a new neighborhood, and then at some point in the future, the builder decides to price their new sales close to the value of your current home.
If you need to sell in this situation, a significant number of buyers are going to choose a new house even if it is smaller and has fewer features than your home. It is human nature to chase the bright, shiny object.
The second situation is less common, however, many in Nashville are feeling the pain right now. And it's a combination of several factors including the number of people relocating to Middle Tennessee, the current demand and the cost to purchase land.
It's more common in suburbia than in the city, but I saw the same thing in East Nashville a few years ago.
It's when you have so many new homes in one area and price range, that it slows down the sale of existing homes. Look at the attached chart.


It shows that 75% of the new homes being built in Metro Nashville are listed for sale between $200,000 - $600,000. And these new homes equal 38% of the total market share in this price range.
Note: the true market share of new construction is higher as most builders do not advertise every home in the MLS.
If you are trying to sell your $400,000 home in one of the many neighborhoods surrounding Nashville, your biggest competition is builders.
Buyers who are relocating here haven't settled on where in Nashville they want to live. Their top criteria is often the distance from work to home. And the commute from Franklin, Mt. Juliet or Hendersonville to downtown is about the same.
It's not uncommon for buyers to start looking in one area, and then settle on another across town.
So what do you do?
Option #1 would be to redecorate your home so it is up-to-date inside and out. Attacking the bright, shiny object syndrome head-on can be an effective strategy with one caveat.
Don't do it yourself. Make sure that you work with a professional so you get the best return on your investment.
Option #2 would be to lower the price of your home to make it more appealing. Now, you won't convince every buyer with this choice, but you'll get more interest from those looking for value.
Now, these two options might not work for you and I understand.
The Third Option would be to put the best shine and price that you can afford, and work hard at marketing your home. This will take more time and with the right advertising will be effective.
There is at least one buyer for every home, and it's up to me to find that person for you.
If you have a question about your home, then contact me. I'll be glad to listen and get your answer.