This Is Another Encouraging Sign Of The Nashville Market
Posted by Steve Jolly on Wednesday, November 8, 2017 at 10:30 AM
By Steve Jolly / November 8, 2017
Comment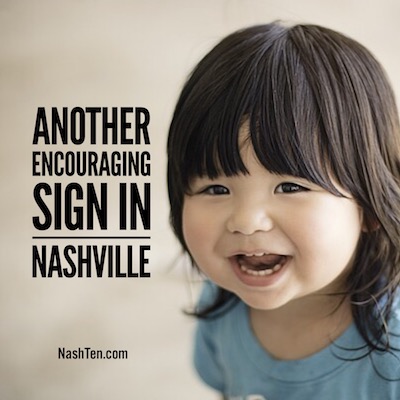 Here's what I think of the latest market data release from the Greater Nashville Realtors.
Let's look at the numbers first.
Sales fell 1.7% over the same month last year. This is the first time that has happened in several years in Nashville and is a sign that the market is returning to a healthy trend of a sustainable level of sales.
What was interesting is that most of the loss in sales was due to condos. The number of condos sold this year in October was 14.6% less than last year. The condo inventory is slightly less than last year, but not enough to make up for the difference.
We will need to keep an eye on this to see if it is a developing trend.
Single Family Home sales were virtually flat at 0.47% less than last year.
Scott Troxel, the President of Greater Nashville Realtors said, "…A minor adjustment like this is not cause for alarm. Our market's dynamics are very positive, both in the local economy and the housing market. We expect to see a typical lull in the fall and holidays, followed by renewed energy in January."
Inventory is down as expected and currently sits 6% lower than the same time last year. However, when you look at the recent inventory trend it shows the numbers have been climbing for the last six months.
This is another encouraging sign that the market forces are guiding us back to the historical norms and a more reasonable market for buyers.
Median price should be falling this time of year, and our numbers are right on cue. We expect to see a run-up in the spring, a peak around June/July, and then a slow decline for the remainder of the year.
The median price is currently 6.4% higher than this time last year and should stay close to this level for the rest of the year.
Our current median price is right in line with my expectations for 2018. After two years of 10% increases, I expect next year to be more like 6% to 8% year-over-year increases.
While undecided sellers may feel they have missed their chance, the higher inventory numbers and lower demand make it easier for those who want to buy another home in Nashville.
And buyers can feel a little better about the competition they face when looking for homes. It's been a tough road for buyers lately and they need a little relief.
One other trend that I have noticed lately is that of new construction. In some areas like East Nashville, the market has been flooded with new homes in the $400,000 - $600,000 price range. While construction of entry-level priced homes is less than the demand.
Let's hope that builders take notice and match their production more closely to the demand throughout Nashville.
Either way, this is something that I will be watching over the next year and sharing with you.
What concerns you the most in the Nashville Real Estate Market?
Hit reply and share your thoughts with me.

The Daily Deal in Nashville is an all-brick cottage in the Woodbine/Flatrock area that needs renovation and is currently listed for less than $160,000.