These Bizarre Trolls are Coming for You
Posted by Steve Jolly on Friday, June 29, 2018 at 2:53 PM
By Steve Jolly / June 29, 2018
Comment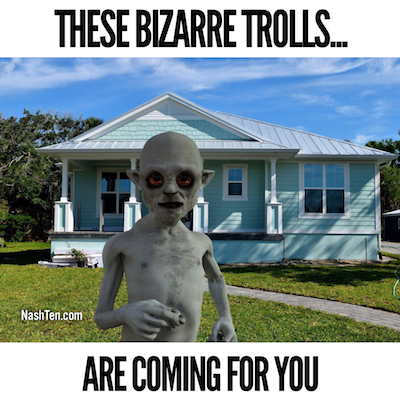 Last October, I shared with you the story of a homeowner in Toronto who was sued by his neighbor for $2.5 million dollars for "stealing" design features.
In other words, the used similar paint colors and stone accents on the exterior of the home.
https://www.nashvillerealestatenow.com/blog/scary-neighbors-make-great-fences/
At the time, I thought this was outrageous. So I looked into the laws of the United States and discovered the Architectural Works Copyright Protection Act. This law not only protects the building plans but the individual design elements themselves.
So, I speculated that the same thing would be happening in the United States soon.
I was right.
Earlier today, a friend told me about a similar lawsuit in Missouri. Where an architectural firm sued a real estate brokerage for having old building plans (that they paid for) in an archive on their company website.
The architect that they paid, had sold his firm, and the new owner filed the lawsuit.
Many of these ridiculous lawsuits are from patent trolls. You know, people who buy or file patents just so they can sue and get a settlement. It's despicable.
And, it's getting worse.
If you are deciding to build a new house or renovate yours, make sure that you have the right to use the plans your contractor is following. I would even ask to look at the plans if you did not purchase them.
Or, you can contact me if you are unsure.

The Daily Deal in Nashville is this beautiful bungalow in Historic Edgefield [East Nashville] that is close to downtown and listed for less than $500,000.