The Strange World of Short-Term Rentals in Nashville
Posted by Steve Jolly on Monday, June 18, 2018 at 11:15 AM
By Steve Jolly / June 18, 2018
Comment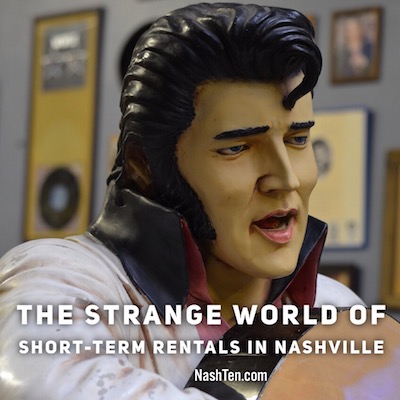 Last week, I attended a meeting at Greater Nashville Realtors that was led by the Attorney for Tennessee Realtors, Addison Russell and Jon Michaels, Counsel for Metro Nashville Codes.
The topic: Short-Term Rentals and the effects of the New State Law
Before Nashville passed Bill 608, the state warned them they would intervene if they didn't get it right. And sure enough, the Tennessee State House passed a new bill concerning short-term rentals a few weeks ago.
While it didn't completely upend the law, it lighted the load for investors in Nashville.
The first thing it did was eliminate the three-year phase-out of Non-Owner Occupied permits in residential areas. Essentially, these permits are now "grandfathered" until the property changes hands.
And if you are operating in a city that doesn't have regulations on these rentals, your home will be grandfathered if the city passes future legislation.
It also created a host of other minor problems for the current Nashville law that a new ordinance is expected later this year. And possibly a board to regulate them. Currently, Short Term Rentals fall under the Board of Zoning Appeals (BZA) which has its hands full with the largest building boom this town has ever seen.
Any new, non-owner occupied short-term rentals are not allowed in Zoning types R, RS, AG or AR2A. They are also not allowed in Specific Plan (SP) zoned areas unless Short Term Rentals is listed as a specific use.
Beyond that, it starts to get confusing without contacting Codes directly.
For more info from Metro Nashville Codes visit:
http://www.nashville.gov/Codes-Administration/Construction-and-Permits/Short-Term-Rentals.aspx
If you would like a "cheat sheet" from the Nashville Area Short Term Rental Association hit reply and I'll send it to you right away.
Otherwise…
The Daily Deal in Nashville is this townhome near downtown Franklin that's move-in ready and listed for less than $220,000.