The red flag in Nashville's job growth
Posted by Steve Jolly on Tuesday, April 23, 2019 at 1:23 PM
By Steve Jolly / April 23, 2019
Comment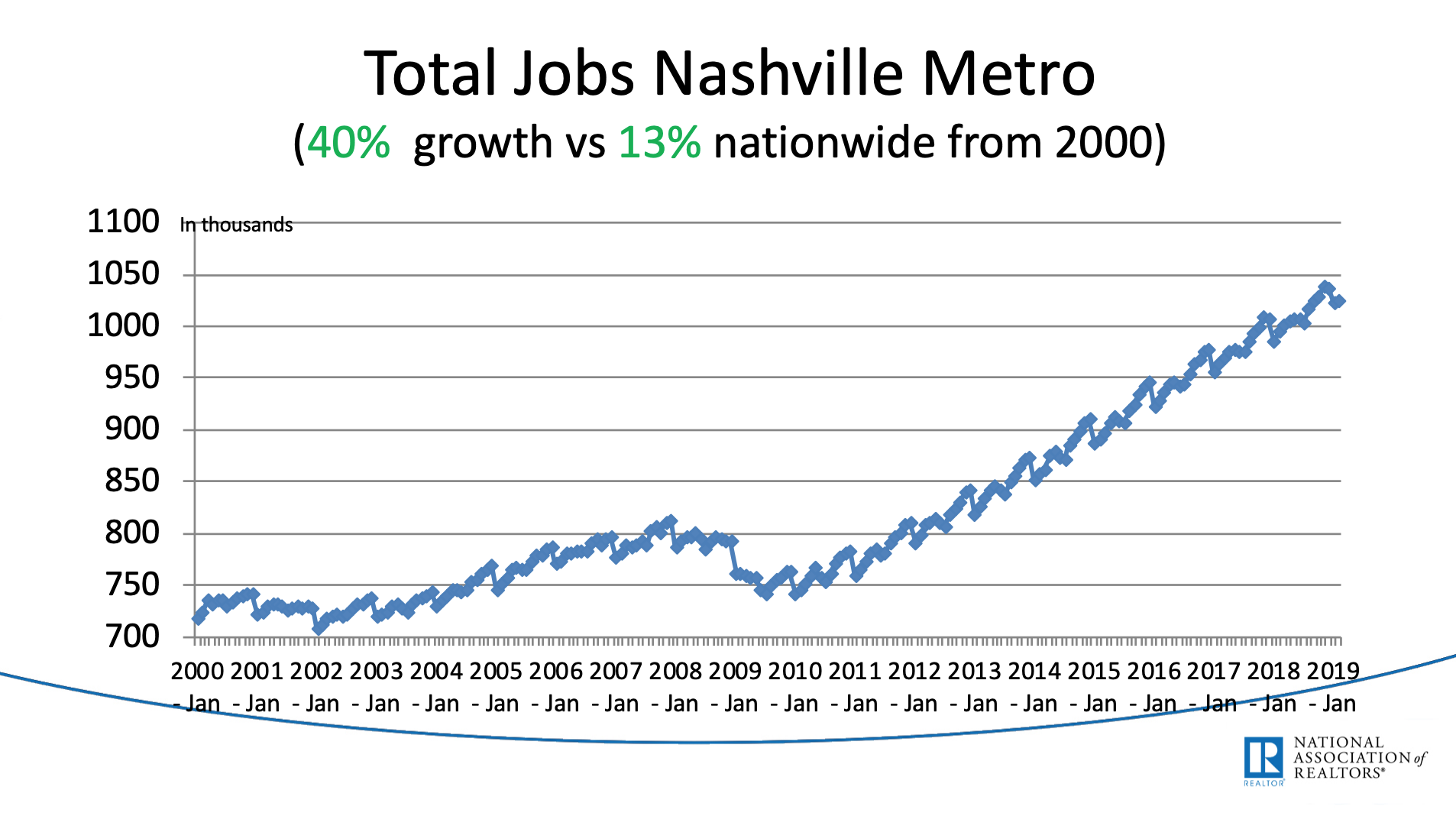 Yesterday, I spoke at and attended an event put on by the Greater Nashville REALTORS®called Nashonomics. Nearly 600 people came to learn and discuss the local economy, market trends, housing affordability and the growth of our commercial district downtown.
Dr. Lawrence Yun, Chief Economist of the National Association of Realtors, was the keynote speaker of the day. Not only is he brilliant, but he also excels at telling the story behind the data.
You know…How it affects you and me.
Dr. Yun's outlook on Nashville is positive. He thinks Nashville positioned itself well for growth and he expects we will continue to outperform the national economy.
For example, job growth across Tennessee and the nation has averaged 13% since 2000. Over the same time period, Nashville's job growth has been 40%.
And one thing that could slow that growth is a lack of new housing.
After the mortgage crisis, new home starts all but disappeared. We are still haven't hit the peak of new home construction in 2005/2006. He estimates that we are short six million homes across the nation.
Even though we have fewer construction jobs available, contractors are having a difficult time filling these jobs. Much of the skilled labor got out of the business during the recession and never returned.
At the same time, we were pushing people away from trades and into colleges. Where they racked up a mortgage worth of debt before they graduated, and now may be under-employed.
Here's the kicker.
The average income for a master plumber or electrician who owns their own small business is $100,000 per year. And they have more customers than time to meet the demand.
Instead of shaming people, we should be encouraging more to enter these types of business where they make a good living and have more entrepreneurial opportunities.
And we should make it easier for self-employed folks to purchase a home.
Most lenders focus on your income after expenses, and we all know that's not the most accurate way to judge your ability to repay the loan. You also don't want to pass up legitimate tax deductions just to qualify for a loan.
So, we've been working with several banks that take a different approach for situations like yours.
If you are an entrepreneur and want to avoid the hassle of getting a loan, let us know. We want to introduce you to folks who can help you.