This is the easiest way to buy affordable housing in Nashville
Posted by Steve Jolly on Monday, August 21, 2017 at 9:24 AM
By Steve Jolly / August 21, 2017
Comment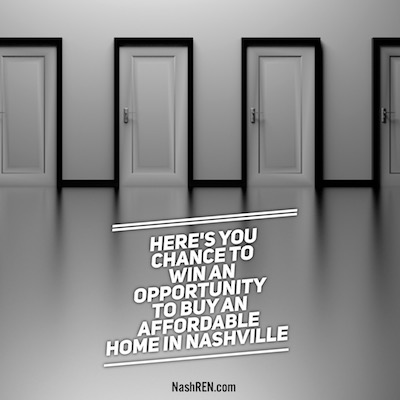 Affordable housing in Nashville is getting harder to find.
Especially for those looking in the sub $200,000 range. At this price point, you have at least 10 interested buyers for every property.
That means not only do you have to find one that you like, but you also have to beat out 10+ other people just to call it your own.
With those odds, it's not likely that you are going to hit the jackpot soon on an entry level home.
Don't let this news get you down because I have a surprise for you that no one is talking about in Nashville.
Affordable Housing Resources, Inc is a local non-profit in Middle Tennessee that creates affordable housing opportunities through education, foreclosure services and new home construction.
They have built and sold more than 1,400 single family homes over the last 25 years.
Here is the deal.
You need to qualify to purchase the home. The maximum income limit for a family of four is $54,950.

You need to enter the drawing before September 26, 2017 here: NashvilleHomeDrawing.com

On September 28, 2017, 10 entrants will be drawn and pre-qualified.

On October 16, 2017, 2 winners will be drawn from the 10 entrants to select the home that they want to purchase. The 8 runner-ups will be given opportunities to purchase other homes in these communities.
Two lucky winners will get to purchase a home at the appraised value without the overwhelming level of competition that goes with most sales today.
For complete information and rules, go to: NashvilleHomeDrawing.com
If you can't participate, please forward this email to someone who can.
Otherwise…

The Daily Deal in Nashville is this beautiful, one story home in Temple Hills that is listed for less than $360,000.