Spring Is The Season For Scams
Posted by Steve Jolly on Friday, April 13, 2018 at 1:00 PM
By Steve Jolly / April 13, 2018
Comment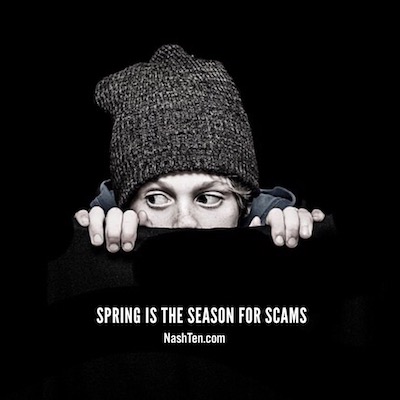 Tax Season brings out the worst in people.
It's bad enough when you have to write a huge check to Uncle Sam every year. Then the crooks take advantage of your emotions to trick you out of your hard-earned money.
I hate that.
So, I want to share a few of the ones that I've experienced recently, so you can learn to avoid them.
One of the newest scams in this area is what I call the HOA bill scam. It's when a fake company sends you a bill for a Home Owners Associations. And these crooks even send them to people who do not live in neighborhoods with HOAs.
Most homeowners decide not to pay, and that's the end of it. However, in Kansas City earlier this year, homeowners who did not pay discovered a lien had been put on their property by the criminals.
Here's the story: http://fox4kc.com/2018/02/08/fake-homeowners-association-files-real-liens-on-northland-neighborhood-after-fake-bills-go-unpaid/
While this can be corrected, it's painful, costly and time-consuming to fix. And you typically discover it at the worst possible moment, when your home is under contract.
Another one of the scams is to file a fake quit claim deed on your home and attempt to take possession. I would watch for this one on any vacant or investment property that you own because that's where I've seen this one used the most.
This last scam is most common any time you move or refinance your home. And it involves getting a letter from a company scaring you into purchasing a copy of your recorded deed at a ridiculous price.
Scams that start in another part of the country usually find their way to Nashville, so I follow them in the news to help you.
If you receive a letter or a phone call that does not seem right, then pick up the phone and give me a call. I'll be glad to help and point you in the right direction to resolve it.
The Daily Deal in Nashville is this wonderful ranch home in convenient Green Hills that is listed for less than $480,000.