Scary Neighbors Make Great Fences
Posted by Steve Jolly on Friday, October 20, 2017 at 7:06 PM
By Steve Jolly / October 20, 2017
Comment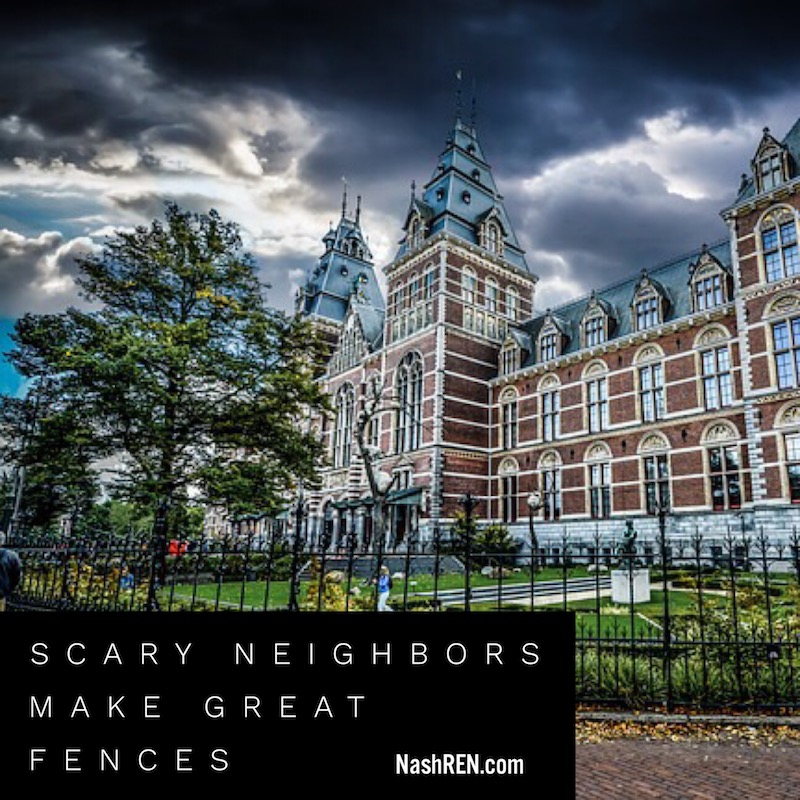 The journalist Arthur Baer summed it up best when he said, "A good neighbor is a fellow who smiles at you over the back fence but doesn't climb over it. "
Over the years, I've had lots of wonderful neighbors.
Like Mrs. Woody, who used to live next door when we first moved to Nashville. She was one of the sweetest ladies that you'll ever meet. And she shared part of her home with others so she could stay in it for as long as possible.
One of her favorite pastimes was to sit on the front porch.
She usually had something to do while she was sitting, however, she was never too busy to talk.
And I took many opportunities to sit with her a while, soak up some of her wisdom and listen to her stories.
She lived in that same house for more than 50 years and I loved to hear how our neighborhood changed over that time.
We've had our share of bad eggs too.
People who will smile at you one day and then threaten you the next.
I never let the rotten ones get to me though.
I figured the best thing to do was stand my ground, persevere and they would eventually move.
And they always did.
This next story caught me by surprise. It was so bizarre, at first I thought the article was satire.
This might be the pettiest thing I've ever heard.
In Toronto, a couple renovated their home and took inspiration from other homes, including their neighbors.
You would think that would be welcome. A renovated home in the neighborhood that looks and feels like it belongs.
Yet, their neighbor a few blocks over did not feel that way.
He sued his neighbors to the tune of $2.5 million for remodeling their home to look "strikingly similar" to theirs.
All because they used a similar color stone, painted their windows a similar shade of blue, and trimmed their gables with wood.
The homes didn't look alike to me. They just had similar design features.
And I thought to myself, this might happen in Canada, but it could never happen in the US.
Then I did a little research.
In 1990, Congress passed the Architectural Works Copyright Protection Act. This law not only protects the drawings but the individual architectural elements themselves. And minor changes won't make the problem go away.
I've yet to hear a similar story in the United States, but it's only a matter of time before someone tries this here.
The couple in Toronto sued because they thought the other similar house caused theirs to decrease in value.
The case went on for three years before they finally settled. A ton of wasted time and attorney fees.
This is one reason why I say that you should talk to the neighbors before the end of the inspection period. Ask open-ended questions about the neighborhood and someone will fill you in on the "scoop."
Who knows?
You might find a few skeletons and save yourself a ton of headaches.
FYI - The Tennessee Museum has its annual Haunted Museum Fest tomorrow, Oct 21st, from 10am - 2pm. Admission to the museum is free and you'll get to hear haunted stories and see the mummified remains of John Murrell's Thumb.
The Deal of the Day in Nashville is an updated brick ranch home in Brookside [West Nashville] that has an open layout, hardwoods, and a screened patio. It's listed for less than $430,000.