One solution to a growing problem in Nashville
Posted by Steve Jolly on Tuesday, August 29, 2017 at 1:01 PM
By Steve Jolly / August 29, 2017
Comment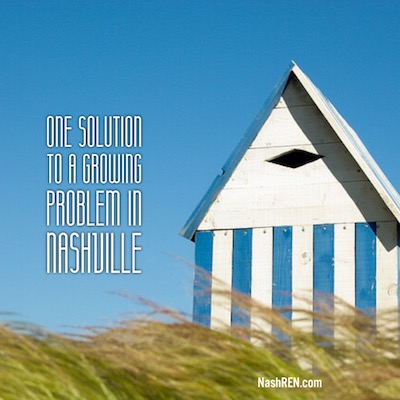 After decades of a declining economy, Detroit is starting to face some of the problems that we have in Nashville.
Here is the problem:
The cost to rent or buy a home is rising faster than people's incomes. While this is a sign of a good economy, it is still a huge problem for us. And it is not sustainable.
And here is how Detroit is winning.
Cass Community Social Services runs a shelter in Detroit that houses up to 300 homeless people every night. And they discovered that it is hard to jump the gap from being homeless, to living in your own home.
There were no steps in the middle of the process to help you transition from a shelter to being able to afford your own home in a clean and safe environment.
Here's what they decided to do.
They decided to build 25 tiny homes on individual lots in different areas and offer a rent to own program. These homes are built on permanent foundations and are strategically designed to include a working kitchen and laundry.
They have offered these homes to low income workers who pay $1 per square foot per month. And if they decide to live in the home for seven years, they have the option of buying the home.
Many of these people were previously homeless and have been working their way back into society. The first batch of residents also included senior citizens, college students and non-profit staff members.
Even if a tiny home is not in their long term plans, it provides a safe place they can live until they can afford a larger home.
While the government does their part to offer assistance, I believe it is our job as citizens to offer a hand up to those who need help transitioning.
Glencliff United Methodist Church recently tried to offer a similar program, but they blew the public relations campaign. Now the surrounding neighborhood is suing the church.
I think most Nashvillians would be open to an idea if it were well thought out and planned.
Do you think this could work in Nashville? Or do you have something else in mind?
Hit reply because I'd love to hear your ideas.
The Daily Deal in Nashville is a cute cottage in the Nations [West Nashville] that would make a great starter or investment home and is listed for less than $260,000.