One more lender mistake you want to avoid at all costs
Posted by Steve Jolly on Wednesday, November 11, 2020 at 11:05 AM
By Steve Jolly / November 11, 2020
Comment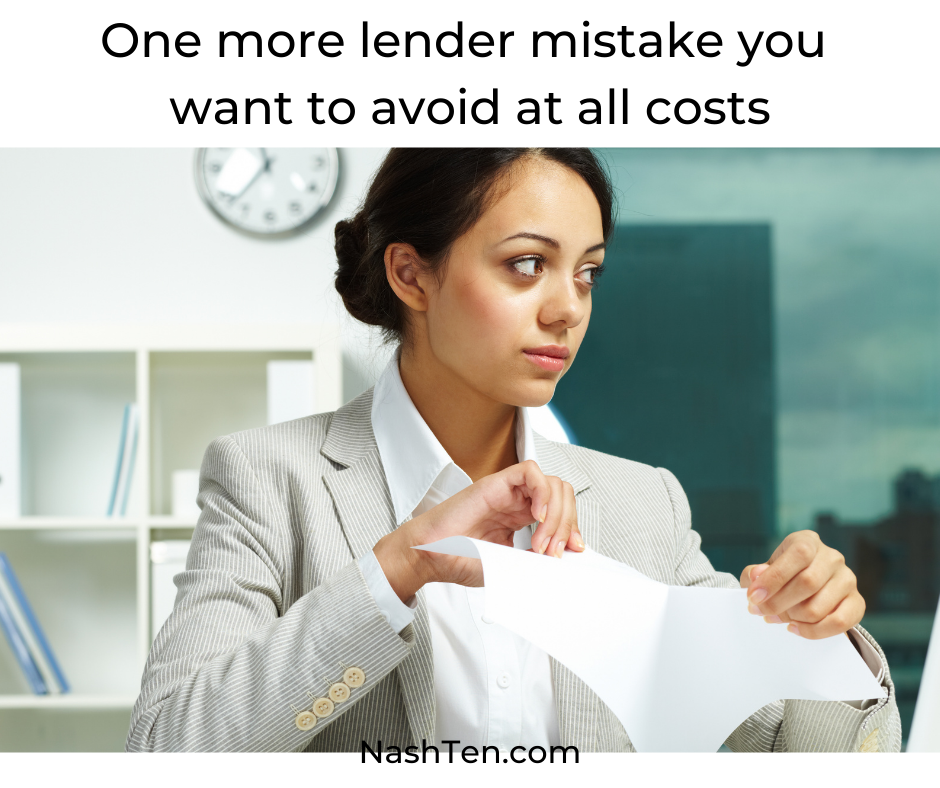 In my last article, I talked about the errors that lenders make that cost you big time. Today, I want to share another story about lenders that will hit you straight in the wallet and how you can prevent it.
This is how I heard it.
"I was a naive first-time homebuyer when I started this journey. I went on to Zillow and used their portal for finding a lender in my area. They quickly connected me with a mortgage company who promptly called me and got the process going. The representative was very nice and we began the underwriting process.
Everything seemed okay at first, but I began to notice some strange things going on, such as him focusing heavily on the bank fees as part of the closing costs. He quoted me upwards of $5,000-$6,000 on a $275,000 purchase just in bank fees for the loan. Keep in mind I am a prime borrower with a 780 credit score and solid income with no other debt. Anyway, I got my pre-approval letter and this is where things became truly absurd.
On the letter itself, it had contingencies to make the pre-approval valid, one of which was securing 6% seller concessions towards closing costs. At this point, I had done more research and knew how absurd this was. Asking for 6% seller concessions would be ridiculous especially in our hot seller's market.
I called him and asked about it, and he said a common strategy is to offer more than the list price to get the seller to agree to pay the 6% concessions, but then that just leaves me with a higher mortgage while they get their ridiculous fees paid for. Absolutely insane.
That's when I reached out to another mortgage company. The experience has been night and day compared to the Zillow-referred lender. I ended up paying just under $2,750 in closing costs."
Getting a mortgage is expensive, however, that doesn't justify getting ripped off to the tune of thousands of dollars. Especially, if you have a good credit rating.
The best thing you can do is to shop for lenders. This takes time because the lender will need basic financial information from you in order to share costs. You may be reluctant to do that because you've heard that checking your credit hurts your score.
That is true to some extent, however, lenders have fixed many of these problems. For example, if you allow multiple mortgage companies to pull your credit in a short period of time, those inquiries are typically treated as a single inquiry. Lenders understand people want to shop without hurting themselves before they commit to working with a lender.
You also want to go beyond rate shopping. Mortgage rates affect the price you pay each month for your mortgage and have nothing to do with closing costs. Since closing costs easily run into the thousands of dollars, you'll want to see a loan estimate that details the total cost you pay throughout the life of the loan.
If you need a referral to a great lender or have other questions, feel free to text/call 615.519.0983. Gretchen and I are here for you.
The Daily Deal in Nashville is this renovated cottage in East Nashville that is listed for less than $325,000.
https://www.nashvillerealestatenow.com/property-search/detail/38/2205902/2025-jones-cir-nashville-tn-37207/