Nashville is Expensive and Here's How to Beat It
Posted by Steve Jolly on Tuesday, July 25, 2017 at 12:12 PM
By Steve Jolly / July 25, 2017
Comment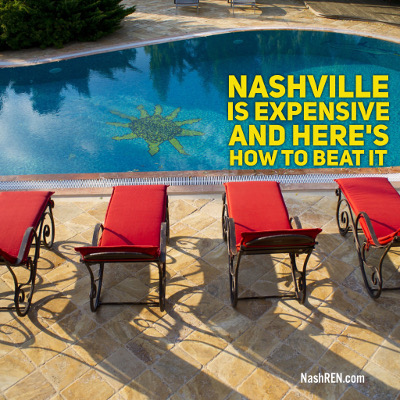 This story has been all over the news the last few weeks.
Nashville is getting more expensive, and that goes hand in hand with being one of the most desirable places to live and work.
A recent study by the site GoBankingRates showed the cost is rising in Nashville faster than any other city in the United States.
Last year, the estimate to live comfortably in Nashville was $60,000. This year that figure is significantly higher at $70,150.
That puts us between places like Austin, TX and Los Angeles, CA.
Now that data in this study might be flawed as they have the median list price in Nashville rising from $260,000 to $340,000 in one year. That's more than 30% in twelve months.
This does not correspond with the numbers provided by the Greater Nashville Realtors for June 2017 which shows the median sales price in Nashville to be $293,753 for a single family home and $199,350 for a condo. And the increase in median sales price over the last year to be approximately 13% during the peak sales month for the year.
Regardless of where we rank, it's no doubt that Nashville is getting more expensive to live. And the report blames the majority of the cost on rising home prices.
And that's good news for you and me because we have the ability to control our housing costs by buying now and not waiting any longer.
That's right…You can lock in the cost of your mortgage and interest payment for as long as you own the home by making that purchase today.
That's what we did more than 15 years ago when we purchased our Nashville home.
And since that time, it has more than doubled in value and weathered the largest financial crisis since the Great Depression.
Now I can't guarantee that you will have the same results as we did. However, the long term outlook for Nashville has never looked brighter.
So, if you have been putting off the purchase of your next home, then hit reply and let me know where in Nashville you would prefer to live.
I'll send you a report that shows how fast prices have been rising and what they are projecting for your favorite neighborhood. That way you can decided the best time to make your move.
Sounds good?

The Daily Deal in Nashville is this beautiful home in Inglewood [East Nashville] that was built in 2014 and looks historic. The home is listed for less than $490,000.