Miracles Are Made When People Are Different
Posted by Steve Jolly on Friday, July 21, 2017 at 12:24 PM
By Steve Jolly / July 21, 2017
Comment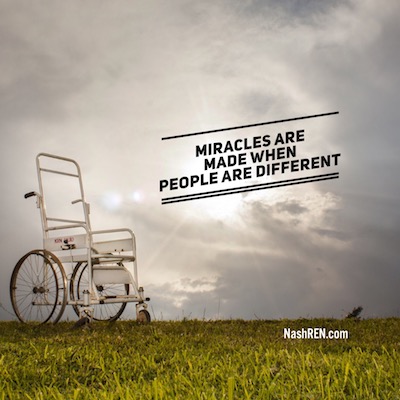 We all have our unique challenges in life.
This is Wade's story.
Wade McRae Washington was diagnosed with Cerebral Palsy as an infant. And then when he was 11 or 12, he was diagnosed with Scoliosis.
Either one of these terrible diseases would have been enough to kill his dream to be a professional body builder.
But, Wade did not let that stand in his way.
He started working with a trainer and was not getting the results he desired.
Then he met Tina Chandler, the 2007 National IBFF (International Bodybuilding and Fitness Federation) Champion.
At first, they would talk in the gym about Wade's dream. Then Wade's #1 fan (and grandmother) passed away. It was a while before he came back to the gym. When he did, he asked Tina to help him turn pro.
Through his struggles, Wade found deeper meaning in his life and thought this would be the best way to teach others that they do not have to be defeated by their diagnosis.
Tina did not know how to help Wade, though she was willing to learn. She also found a league with an adaptive division. This league allowed people with prosthetics or a disability to compete.
He trained hard for his first competition. And became more confident along the way.
Wade took home a medal in his first competition and not long after was awarded professional status.
Here's what Wade said about it, "You can be anything. Don't think you're letting anyone down by not taking the path that everyone else is taking. Create your own path and be your own person. Miracles are made when people are different."
Wade's story made me think about you and the things that are holding you back from accomplishing your dreams.
We are not intended to walk through this life alone. We all need friends and partners to help us along the way. Someone who has been there before and knows how tough it is to achieve.
So, I am asking you to hit reply and share with me what's holding you back. I want to help you find your own path to the finish line and celebrate the victories along the way.
Would you do that for me?

The Daily Deal in Nashville is a beautiful, stone cottage on an oversized lot that is located in Inglewood [East Nashville] and is listed for less than $400,000.