Mad at your neighbor's mess? Do this instead
Posted by Steve Jolly on Thursday, September 21, 2017 at 1:20 PM
By Steve Jolly / September 21, 2017
Comment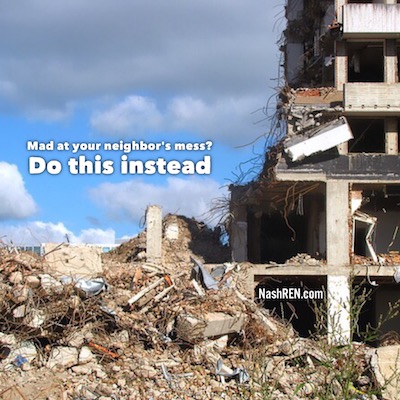 Code complaints across the city are up 60% this year as compared to 2015. It's no wonder that the city has had trouble keeping up.
Some of these complaints are related to the construction of new homes that are happening at a rapid pace across the city.
Others are coming from investors who have renovated neighborhood homes or are attempting to purchase properties that are in distress.
In some communities, its neighbor against neighbor.
One leader is taking a different approach.
Ruby Baker is on a mission to beautify her neighborhood the right way.
Ruby is the president of the Bordeaux Hills Neighborhood Association. She and her volunteers head off problems before the violations are brought to the city
Rather than calling codes, this group has turned neighborhood problems into community projects.
It starts with education. Ruby makes sure that the folks in her neighborhood know what can trigger a codes violation.
They have also partnered with other businesses and organizations to make a difference. For example, they have utilized community grants from Waste Management company to clean up homes and make necessary repairs.
I've never met Ms. Baker, but I can tell you that she is a neighbor that I would love to have. She approaches problems the same way that I do.
Instead of dumping the problem on someone else, she has taken it into her own hands to find solutions for the people who live in her community.
Not only will this help maintain values in the neighborhood, but it also helps many people stay in homes they otherwise might not be able to afford.
And instead of neighbors fighting each other, we have people coming together for the benefit of everyone.
It's the ultimate win-win.
That's my goal every day in business.
To create win-win opportunities that help my clients achieve their housing goals.
There are thousands of ways of doing this, and here is one example that you might not consider.
Let's say that there is an inspection deadline that the seller is counting on, but the buyer is having difficulty getting a contractor to evaluate their concern.

I will reach out to my vast network of contractors to see if someone can step in quickly to resolve the problem.
I understand that it is not my problem and that I'm not required to help the other side do their job. If it makes my client happy to stick to the timeline and gets us one step closer to the closing table, then I'm all over it.
If you want to work with an agent who is willing to go above and beyond to get the job done, then give me a call at 615-519-0983.
I promise to help you solve your concern to the best of my ability.
The Daily Deal in Nashville is this beautiful, one story home in Brentwood has an open floor plan, private backyard and is listed for less than $425,000.