Like sunshine on a rainy worksite
Posted by Steve Jolly on Monday, April 30, 2018 at 10:26 AM
By Steve Jolly / April 30, 2018
Comment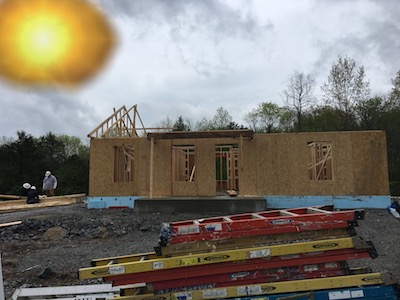 Last week I worked with the Greater Nashville Realtors on our Habitat for Humanity home this year. Your local real estate professionals fund one home and provide the labor for most of the construction. It's one of 40 - 50 that Habitat will be built in Nashville this year.
It's something that I enjoy, and try to do at least once a year because I believe in the cause. You get to work side by side with the future homeowners and do something amazing.
Build a home in less than one month.
That's right, from the time the foundation is ready until the last piece of flooring is laid takes about 22 days. Yesterday was no different.
We started with a slab, and by the end of the day, we had placed all the exterior walls, interior walls, top plate and a couple of rafters. Now, this isn't a big house. It was about 1500 SF with 3 bedrooms and two baths.
I've mostly participated on the first day of builds. It' a day when you can really see the progress from morning to night. Though I was missing the most incredible part.
Until yesterday.
You see, we were building in a cul-de-sac. And across the street, two homes were being dedicated. Normally, I would have preferred to keep on working through the dedication, but we had to stop work for the film crews.
I did not realize until the ceremony that these were the homes built by the Property Brothers from HGTV.
Now before you get the wrong idea, I am not the worlds biggest HGTV fan. It would be like an accountant going home at night to watch other people do their taxes on TV.
You see, it is incredible to see the progress on the first day, but it doesn't yet feel like a home. I imagine watching their framing go up is like seeing the light at the end of the tunnel for the future homeowners.
They have been working and waiting for the last 18+ months. They go to classes on budgeting, finance, and home repair. They also have to put in sweat equity at the Habitat Homestore, on other home builds and their own home.
And they have to pay the principal back to Habitat as a 30-year loan.
The transformation for everyone involved is amazing, and to watch two families get their forever homes made it all worthwhile.
The Daily Deal in Nashville is this upgraded, Brick Ranch in Brentwood [Williamson County] that is listed for less than $360,000.