Just like your Nonna used to make
Posted by Steve Jolly on Thursday, August 24, 2017 at 1:59 PM
By Steve Jolly / August 24, 2017
Comment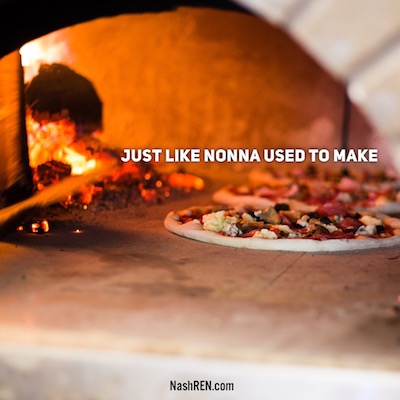 Last night, we ate dinner at one of my favorite restaurants in Nashville, Bella Napoli.
It's a small Italian restaurant that's tucked inside the former factory at Edgehill Village in Nashville. The location has an old world atmosphere that makes you feel like you stepped back in time. And the charming courtyard is great for those nights you want to eat outside.
What I first fell in love with was the pizza. Since I have an allergy to cow's milk dairy, I can't eat most of the pizza that is made in the United States. But, Bella Napoli prepares their food like they have done in Naples for hundreds of years.
First, they use the finest ingredients: flour from the Caputo Mill in Italy, Sauce made from fresh San Marzano tomatoes, and fresh Mozzarella di Bufala. This cheese is has a wonderful flavor, is not greasy and is made from the milk of the Mediterranea Itialiana Buffalo.
Everything here is made fresh from scratch, just like your Nonna used to make.
As wonderful as the food is, that's not why we keep coming back after all of these years.
Much of it has to do with the owners and the wonderful staff.
From the moment you walk in the door, you are treated like a welcome guest in their home. Everything on the menu comes with a smile. They listen intently to your order and offer suggestions to help you decide. And they always take time to see how you've been since you last visited.
It's like visiting family when you've been away for some time, except you don't have to help with the dishes.
It's a feeling that I want to capture within my own business.
Where the service is world class, but you keep coming back because you feel loved.
If this kind of business resonates with you too, hit reply and let's talk over a slice or two.
The Daily Deal in Nashville is a brick ranch home on a large lot in Goodlettsville that needs renovation and is listed for less than $100,000.