In the fight for affordability, Metro increased prices
Posted by Steve Jolly on Monday, February 26, 2018 at 3:49 PM
By Steve Jolly / February 26, 2018
Comment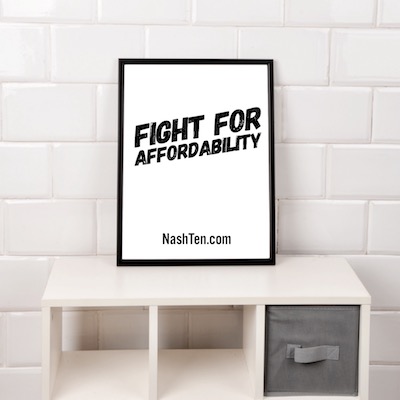 In the fight for housing affordability, 29 council members and some citizens worked to get the project called The Ridge at Antioch shut down in 2016.
The Ridge was designed to be a 96 unit apartment project designed for low-income residents.
The opposition claimed that there was already two similar buildings near this one. And that it would concentrate too much poverty in one area.
Here's how they did it.
It's not uncommon to have builders request zoning changes with Metro in order to get approval for their plan. In this case, the property was zoned correctly.
The Council voted to down-zone the property before it could be built, and it killed the deal.
Though the opposition won this battle, they are losing the war on Affordable Housing. And the repercussions were felt across the state.
The Federal Credits for Affordable Housing were awarded when the opposition started.
And once this happens, they cannot be re-issued.
In this case, $1.7 million of federal dollars went unspent, when it could have been awarded to other programs in Tennessee.
Projects across the state were denied when the Ridge at Antioch was approved because Tennessee has a limited amount of federal funding for affordable housing. And by now, these units would be occupied by Tennesseans who need a safe and inexpensive home for their families.
And these aren't the only homes that have been canceled.
The Federal Affordable Housing Tax Credit program is run locally by the Tennessee Housing Development Authority [THDA].
When this happened, THDA Director, Ralph Perrey, said "we will essentially have wasted an award of tax credits that we could have put to work in Greenville, Johnson City, Jackson, any number of other places. And at that point, it raises some troubling questions for us, and then we and the board would be obliged to consider: Does it make sense to send tax credits that's going to waste it in that matter?"
Not only did these actions deny other residents affordable housing, it also put at risk any future credits that might be awarded in Nashville.
Ralph mentioned his frustration again when he spoke at a ribbon-cutting ceremony for renovations at The Old Hickory Towers. He said, "Nashville and Davidson County are proving to be the toughest places in Tennessee for us to put these resources to work."
When we consider the next affordable opportunity for Nashville, we need to think beyond our own neighborhoods. We need to think about everyone who is affected by this decision including future Nashvillians and our friends across the state.
The Daily Deal in Nashville is this historic, 4 bedroom cottage in Lockeland Springs [East Nashville] and is listed for less than $425,000.