If you want value in Nashville, this is for you
Posted by Steve Jolly on Thursday, January 9, 2020 at 12:46 PM
By Steve Jolly / January 9, 2020
Comment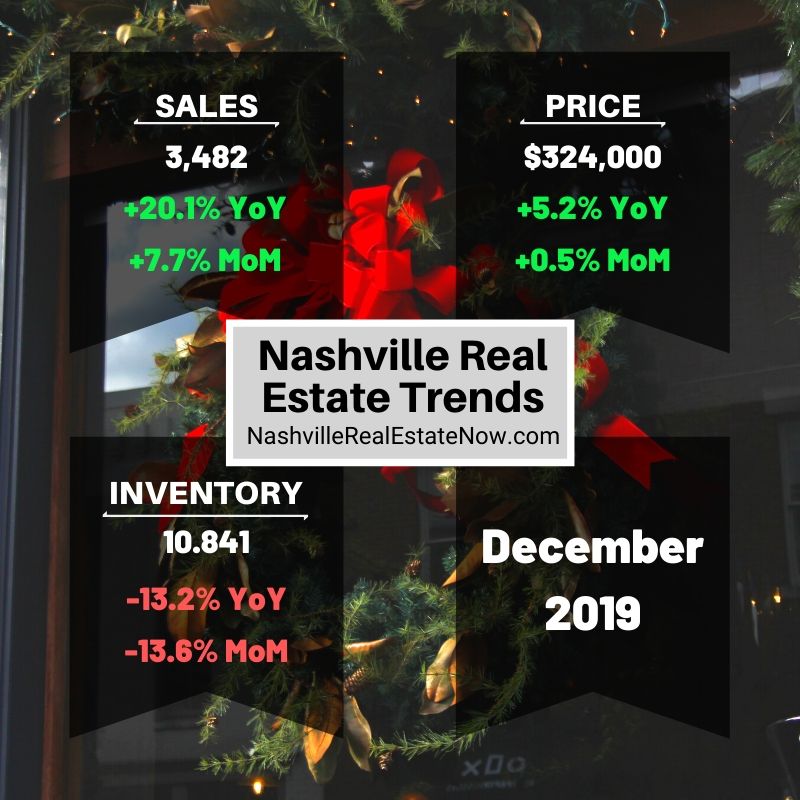 2019 was a record-setting year for the Nashville Real Estate Market sales and ended with a bang in December. All the major indicators were up except inventory which has been trending downward all year long.
We ended 2019 with prices up 5.2% and sales up 7.2% over the previous year.
As you heard me say previously, the movement in inventory combined with the current high demand will have a positive effect on prices. When you couple that with the fact that new construction is on the decline, it's not good news for buyers.
If you are considering a move, hang in there because I have some information that you might find useful towards the end.
Kristy Hairston, Greater Nashville REALTORS® president said, "This historical growth is a result of a strong local economy, corporate relocation and continued job growth across the region. Every day more people and companies make the Greater Nashville Area their home, and this boosts consumer confidence, which will move the housing market forward."
Urban Land Institute, which has Nashville tapped as the #3 Market for 2020 said, "The local mood is ebullient, with expectations strong for continued investment and development. News on the corporate location front – Alliance Bernstein's headquarters, an Amazon operations center and the expansion of dental products firm Smile Direct Club – has bolstered confidence and generated real estate activity associated with more than 8,000 new jobs linked to these firms.
With all these folks moving to the area, and available homes on the decline, something has to give. And that's likely prices, which is bad news for price-conscious consumers.
Here's the good news.
And at first, it's going to sound cliche, but I have the data to back it up. Right now is the best time to buy for those looking for value.
Here's why.

Real Estate demand is seasonal. Buyers slow down in the winter and then gear back up in the spring. This demand affects prices every year as shown in the attached chart.

In January 2019, the average home in Nashville sold at 96.1% of the original list price. And in June of 2019 at the peak, the average home sold for 98.2%. And you see a similar pattern every year.



















While 2.1% doesn't sound like much, that's $10,500 on a $500,000 home.
If you've been waiting for the best time to buy, don't wait any longer because the prices are not going down anytime soon.
Questions? Call me at 615.519.0983, I am here for you!