I Was Shocked When I Saw This On The Report
Posted by Steve Jolly on Wednesday, August 8, 2018 at 10:19 AM
By Steve Jolly / August 8, 2018
Comment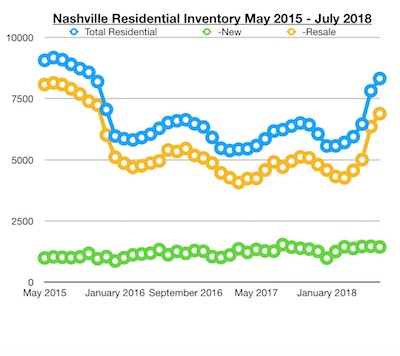 For months now, I've felt like the market was moving away from a seller's market and I've shared some of that concern with you.
Of course, the market is hyper-local.
If your area is booming with new construction, it could push the supply past the demand. I've seen this happen within the last year in certain parts and price ranges in East Nashville.
Until last month, there were no BIG signs that the shift was happening. Only glimpses of the future.
Then we had a big jump in inventory in June.
My initial thought was it could be new construction. Builders are famous for not putting all their inventory in the MLS. They don't want the public to think they have all these homes for sale with no buyers.
Also, one month doesn't make a trend.
So, I started digging deep into the past trends while I waited for the sales numbers from July. When they were released yesterday, it confirmed my expectations with another significant increase in the number of homes for sale.
When I finished crunching and analyzing, I was shocked when I saw the chart. Three years ago, we were averaging about 1,000 new homes entering the market each month. Now, we are hovering around 1,450 new homes listed each month.

While that is significant, it can't fully account for the huge increase in homes for sale.
The big surprise was the number of resale homes that are hitting the market. Resales are any home that is listed for sale and is not new construction. Many of these homeowners have been sitting on the fence, afraid that they could not find their next home.
With rising interest rates, these folks recognized this may be their last window of opportunity in the seller's market.
If you've been sitting on the sideline waiting for the coach to call your number, this may be your big moment. Demand is strong, interest rates are historically low and the supply of available homes is at the highest point in three years.
If you have questions about your home or the market in general, just hit reply and I'll get back to you right away.
I'll be releasing the full July real estate report on Friday.
The Daily Deal in Nashville is this amazing home in popular Lennox Village that is listed for less than $380,000.