How Will Nashville Fare In The Next Downturn?
Posted by Steve Jolly on Friday, March 16, 2018 at 11:38 AM
By Steve Jolly / March 16, 2018
Comment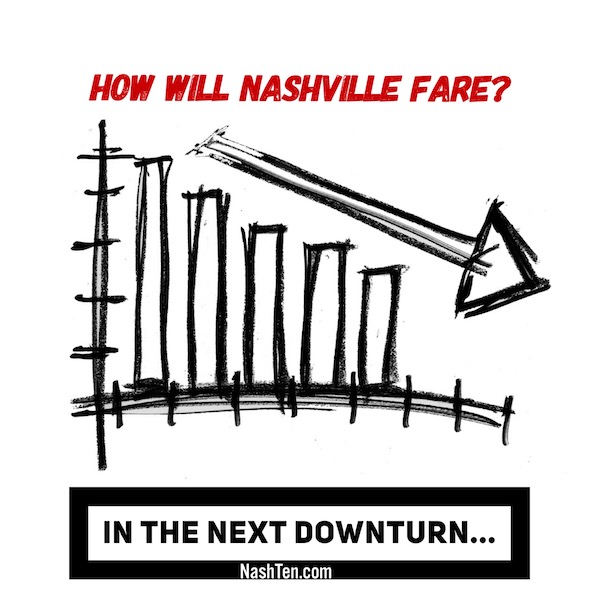 We all know it's coming…just a question of when and how bad.
Most experts predict it is still a few years off, but you still need to be prepared. While we can't predict the future, we can look to the past to get a glimpse of what may happen. Because I've been getting this question a lot lately, I decided to dig in for you all.
And here's what I found.
Corelogic, a world leader in information intelligence for the housing and financial industry, recently wrote a report on the National Housing Market since the Great Recession.
Here's what the report discovered about Tennessee:
Tennessee ranks 13th among states on the 5-year appreciation (2012-2017) rate at 33%

Only two Southern states rank higher: Florida (46%) and Georgia (41%)

From the peak (June 2007) to the bottom: Tennessee lost 13% in value

From peak to bottom: Florida lost 50%, Georgia lost 31% & the US lost 33% in value

From the peak in 2007 through now: TN is up 20%

Georgia is up 7%, Florida is down 16%, and the US is up 1% over the same time period
I think Tennessee fared better because we did not have a huge run up in price before the last recession. Some places around the country were seeing 50% appreciation year over year.
Not only is that not sustainable, but it sets the market up for a big crash when the smoke clears and the hysteria wanes. My best guess is that will hold true when the next downturn hits.
Here's why I think Nashville and Tennessee will prevail
More than 100 people per day are relocating here for opportunity and a better lifestyle

We have no state income tax and our state constitution prohibits one

The State of Tennessee has more than $2 billion surplus

Fobes' ranks Nashville the #8 city in the nation for job creation and opportunity

Money magazine ranks Nashville the #8 city for tech job growth

SmartAsset Magazine ranks Nashville the #6 city for young professionals

The US Bureau of Labor Statistics ranks Nashville as the #3 Fasting Growing Large Metro
And the accolades go on and on.
While the national economy is always in the back of my mind, I feel that Nashville is uniquely positioned to weather any storm and come out stronger.

And I wouldn't want to be anywhere else.
If you want a copy of this Corelogic report, just hit reply and I'll send it to you.
The Daily Deal in Nashville is this renovated bungalow in Eastwood Neighbors [East Nashville] that is listed for less than $400,000.