How to Instantly Get Ahead of Your Competition
Posted by Steve Jolly on Tuesday, September 26, 2017 at 2:40 PM
By Steve Jolly / September 26, 2017
Comment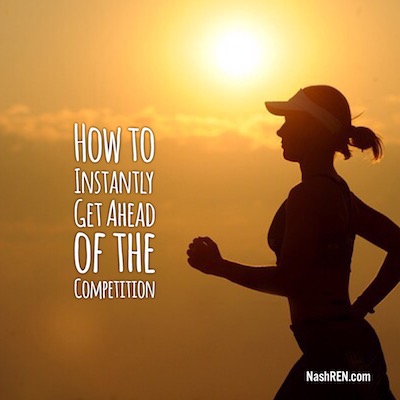 Here's the story…
One afternoon an elderly lady was taking her daily walk around the neighborhood. Towards the end, she noticed three small boys on the front porch of a nearby home.
They were dressed in their school uniforms are were trying to reach the doorbell.
"Poor boys," the lady said to herself, "Their parents don't know that they are locked out."
So she marched up the steps of the home. Reached over the boys and firmly pressed the doorbell.
Surprised by the lady, the boys looked at each other and yelled, "Quick, RUN!"
And they jumped over the fence next door and disappeared.
The elderly lady made a decision without all of the information available.
And this is common in real estate too.
But, it's not your fault.
Most buyers and sellers do not have access to all the information that their agent has at their disposal.
In fact, many agents don't know all that they have.
Here's a good example of one tool that I use frequently and that most people (agents included) have never seen.
And that is the number of recent showings that are taking place in a given neighborhood and price point.
Without this information, you are just as blind as the elderly lady.
Having this information can help your home sell faster or give you a leg up on the buying competition.

Sure you can look in the MLS and see how many homes have sold recently. But that doesn't tell you the full picture and what the demand looks like today.
Many of the sales we review in the MLS are months old.
Nashville is not in an ordinary market and it changes based on your location and price point. We can't blindly look at the past and assume that the market is the same today.
That's why I review every source of information available to me before I make a recommendation to my clients. And even share the data with them.
So they can make the best decision for themselves and their family.
Here's my question for you.
What information are you seeking on the real estate market in Nashville?
Hit reply and tell it to me now.
I promise to point you in the right direction.
The Daily Deal in Nashville is my latest Bank-Owned listing in Clarksville. it just hit the market today. This one is best for investors or DIY homeowners. It's located close to Ft Campbell and is listed for less than $50,000.