How To Generate A Feeding Frenzy Of Buyers In 11 Easy Steps
Posted by Steve Jolly on Friday, March 30, 2018 at 1:39 PM
By Steve Jolly / March 30, 2018
Comment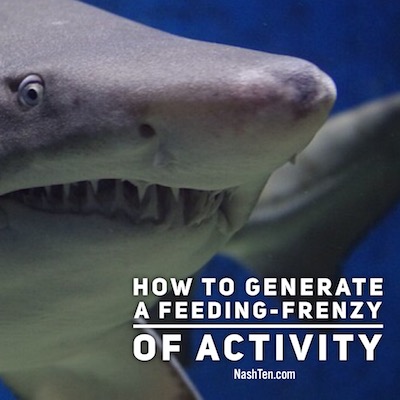 Early this week, I shared with you 10 things that buyers can do to win more multiple offers. Today, I want to focus on what sellers can do to create more multiple-offer situations for themselves.
While you think it might be easy getting multiple offers on a property today, that is not always the case.
Much of it depends on the property that you have, the level of competition in the area, and your ability to create a "feeding frenzy" of buyers wanting to purchase your home. The first two items are out of our control. Though we still need to understand the market to determine how to best connect with people who likely want to buy your home.
The last item, creating the frenzy of activity, is up to you and your agent. And if done right, your efforts can compound themselves resulting in a sales price that is larger than you expect.
So…
Here's 11 things that you can do to create your own multiple-offer situation.
Hire an experienced agent with a good reputation
Get your home in the best shape possible prior to the pre-marketing
Determine potential buyer concerns and fully address them
Have a pre-marketing plan
Place a coming soon sign inside the yard.
Price appropriately
List on a Wednesday/Thursday and Plan an Open House on Sunday
Call all the top local agents during pre-marketing
Run ads targeting potential buyers during pre-marketing
Email everyone in your database who has been looking in the same area
Post the pre-sale in the Real Estate & Buy/Sell Groups on Facebook
Of all the items on this list, I would say that the first one is the most important to you. You'll need an experienced agent to guide you through the other 10 items on the list. Missing the mark on any of these can cause you to crash and burn faster than a one-hit wonder.
And if your agent doesn't have a solid reputation working with other agents, they might decide that your home is not worth the trouble.
Here's what one client recently said about us on Zillow, "Steve and his wife Gretchen are exemplary members of their profession!"
If you are thinking about selling, but have questions first, then give me a call at 615.519.0983 and I'll be happy to answer everything.
The Daily Deal in Nashville is this home on Old Hickory Lake with a dock for less than $500,000.