How to Drive Negotiations and Keep it on Track
Posted by Steve Jolly on Tuesday, June 22, 2021 at 3:10 PM
By Steve Jolly / June 22, 2021
Comment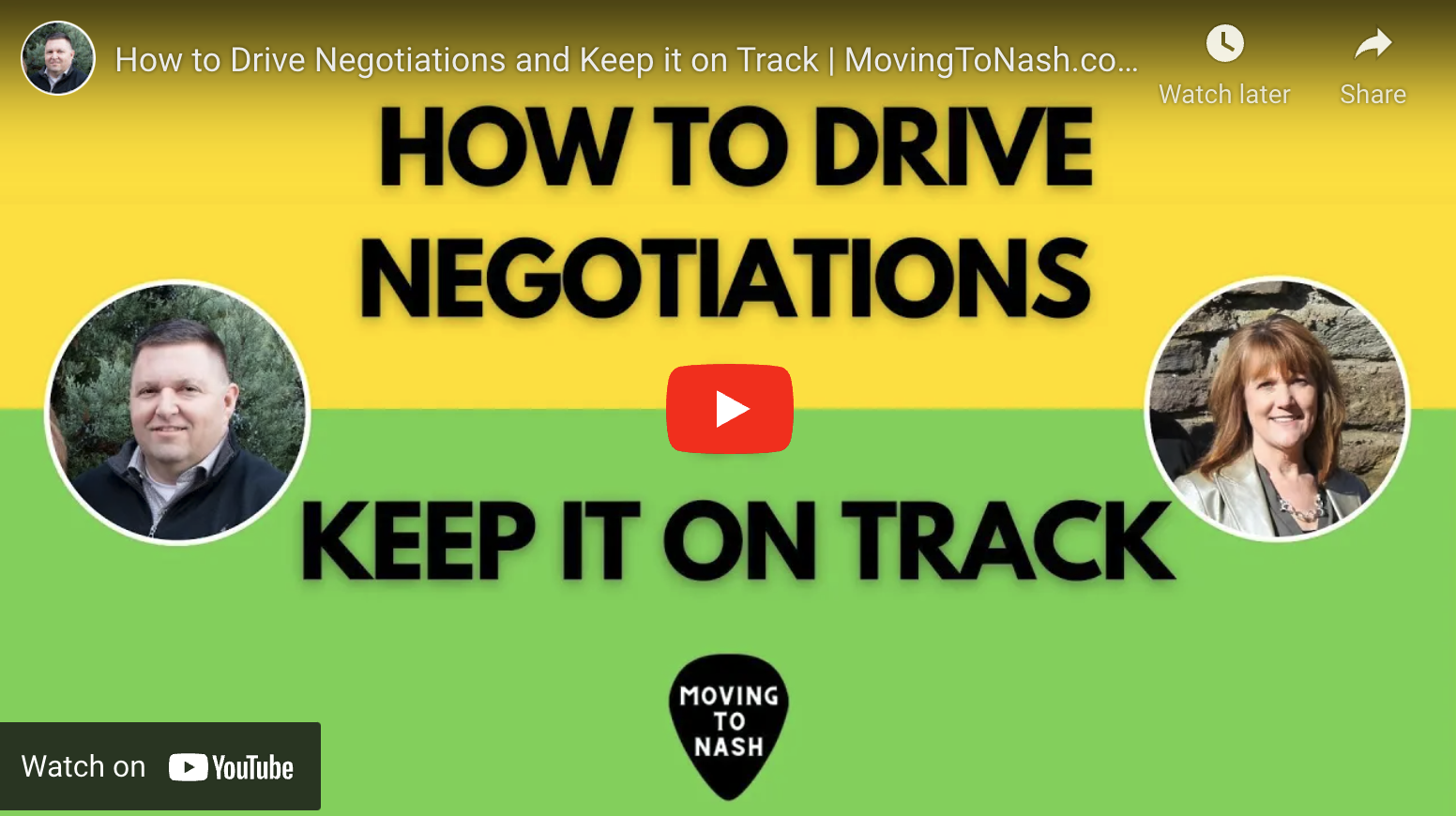 Steve Jolly here with Benchmark Realty and the Moving to Nash Show. Today I want to talk to you about…
Secret #3. How to Drive and Keep Negotiations on Track
Sean D'Souza is a marketer who wrote a brilliant book about buyer psychology called The Brain Audit. In that book, there is a famous story about arriving home from a long flight.
If you checked seven bags when you boarded the flight and then when you got to baggage claim only six of those bags are on the conveyor, would you leave the airport?
Of course not…You won't leave until you get all seven bags.
Sean goes on to say that the same thing happens to your clients. How each one of those seven bags represents information that the client needs so they can understand what you are selling and buy it right away.
It's an amazing book. If you are in business of any kind, you should read it. And then read it again.
Over the years, I've thought about that conveyor belt many times when working on problems in my own business. Then, all of a sudden it hit me like a ton of bricks.
There is a meta driving force behind this human behavior that Sean describes in The Brain Audit. And, I believe is the reason why his ideas work so well.
Here it is.
People will not make the decision to move forward if they have unanswered questions.
It seems so simple, yet it is incredibly powerful in the hold it has on us. Mostly because bad decisions lead to even worse consequences. Your primal fear of paying for your mistake will stop you dead in your tracks.
People will literally stay in the same place for years at a time until they get the information that they needed to hear. Then and only then, will they take that next step forward.
Because real estate is a journey of a million steps, it's not uncommon for you or the person you are negotiating with to get stuck.
Sometimes you know the questions that need to be asked. Other times, your gut says that you just don't know enough to move forward.
That's when you need to dig deep to understand their concerns and then communicate the right information in a way that makes people comfortable enough to understand and make a decision.
Or better yet, hire an advocate who excels at doing that every day. If you have questions about negotiations or real estate, you can Call/Text Gretchen and me at 615.257.9996. We'd love to hear from you.
I believe that good Negotiations are key to your success in real estate. Here's what one of our clients recently said about us.
"Steve has also provided us with great advice during the listing and negotiating phases and has done so the 3 times we've worked with Steve. Certainly recommend and will be using him again!"
We still have two more episodes in this series on negotiations. Next week, we are going to talk about the one thing that is the foundation to your success in every negotiation.
We'll dive into that next week on the Moving to Nash Show. Thanks for tuning in.
Peace & Love Y'all.