Here's your Inside-Information for Price Negotiations in Nashville.
Posted by Steve Jolly on Tuesday, May 11, 2021 at 2:58 PM
By Steve Jolly / May 11, 2021
Comment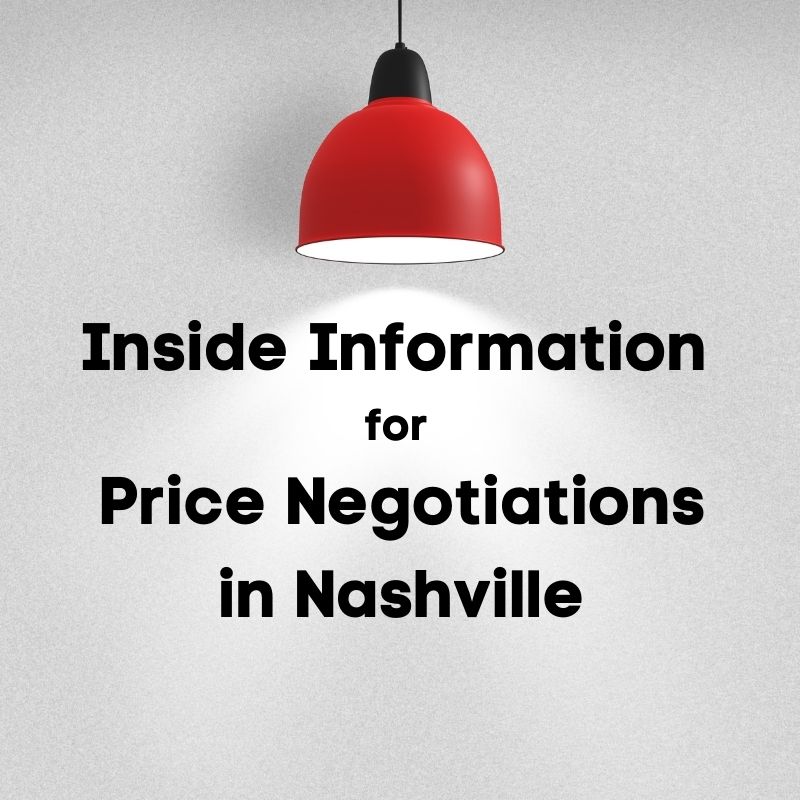 This is my fourth video in a series for buyers in Nashville.
I'm here to say that not everything is selling over list price, but still…it's a significant amount. Over the last thirty days, thirty-nine percent of the homes sold in Metro Nashville were over list price.
The highest was $310,000 over list. Now, Those are far and few between. And…At the other extreme, the lowest sold for $550,000 LESS than list price. The 30-day average for those that sold over list is $15,802 more than the price listed.
Now get this. Thirty-nine percent sold over list, another Thirty-seven percent sold for the exact list price, and 24% sold below list price.
With prices all over the board, when you see a home listed for sale, how do you know what to offer? Over? At List? Less? Nobody…I mean absolutely no one, wants to pay more than necessary.
What do you do?
First and foremost, you need an agent that can show you the likely sales price of the home and the premium people have been paying in this area for homes like the one you want.
If you don't get this from your agent, you need a new one pronto.
Second, you need someone who understands that negotiations start before the offer is submitted. This is where the best agents earn their commission.
Too many agents skip engaging the other side and take your order instead. They ask you what you want to offer, fill in the blanks on a form, and submit it to the home seller. They might tell you some tactics that have worked for others.
If they don't mention anything about the seller and their needs, that's another red flag.
What's wrong with that approach? Nothing…If you don't mind wasting your time.
All kidding aside, this might be a successful approach in a slow market. However…that won't work in Nashville 2021.
That's because your average offer is built in the world of you, the buyer. It's all about you and what you want. Just like 80% of the other offers out there. That won't cut it in today's competitive market when the seller can pick and choose what works best for them. That doesn't mean you can't get what you want.
Here's what I do to make your offer stand apart from the competition and still work for you.
I try to have two conversations with the listing agent prior to submitting an offer. The purpose of the first call is to find out the seller's goals, needs, and concerns. That information is our secret sauce.
Then, we use that feedback to craft an offer the home seller can't resist because it's designed for them and their unique situation.
With the second call, I paint a picture in the mind of the seller that we are the best combination of buyer, agent, and offer to get them to the closing table with the least amount of headaches and frustration.
Here's an example of a recent win for one of my clients.
In my preliminary call to the listing agent, I discovered that the sellers are building a new home. They also wanted to transition from their current home to their new home without having to move into temporary housing.

Transitional housing a huge pain in the butt and rather expensive because you have to pay move twice.
I'm guessing most of my competition submitted their offer without ever talking to the seller. This is how 80% of the offers get submitted today. While it's true that the seller could have countered the close date with any one of the other buyers, they didn't have to because we made it easy for them.
Knowing that my buyers had some flexibility in their move date, we used that and other information gleaned from the listing agent to leverage ourselves into the top position.
Proactively solving problems built trust with the seller and helped us move to the front of the line without having to throw money at the problem.
If you want to work with an aggressive agent who knows how to win in this market, then give me a call at 615.257.9996.
Next week, I want to talk with you about how to make sense of all the paperwork involved in the sale of your home. And the best way to protect yourself as a buyer.