Here's why you need to pay attention
Posted by Steve Jolly on Tuesday, November 12, 2019 at 10:46 AM
By Steve Jolly / November 12, 2019
Comment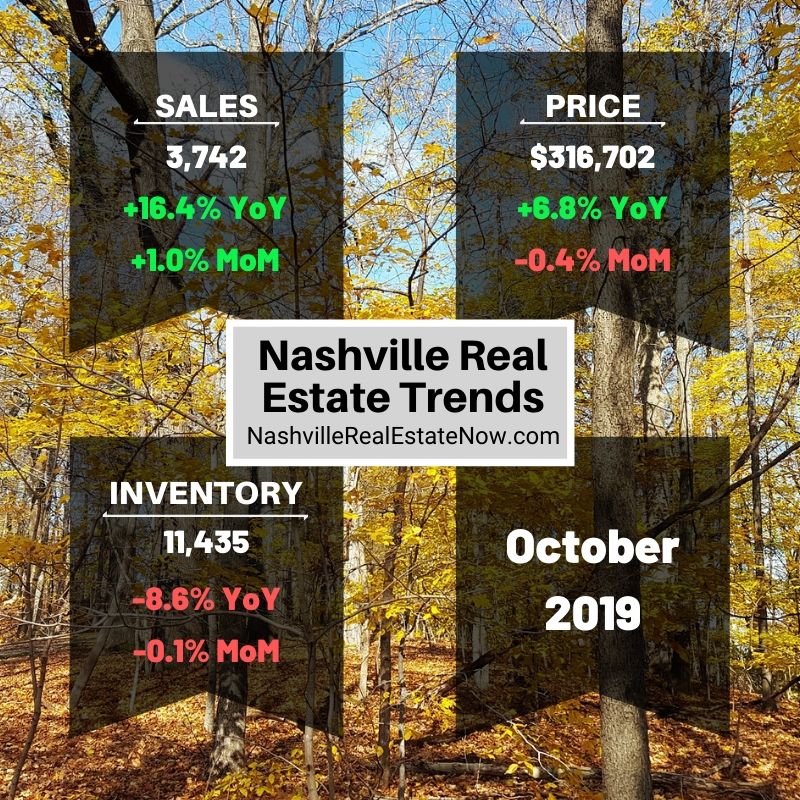 When you look at the October Nashville Real Estate Market versus last year, it seems pretty dang exciting in Music City. Year-over-Year Sales are up 16.4%, Prices are up 6.8% and Inventory is down 8.6%.
When you look at Month-over-Month the changes are less dramatic. Sales leads the way with a 1% improvement over September 2019. Price and Inventory declines are less than 0.5%.
And it is typical to see a downward trend between now and the end of the year. Don't let that worry you.
Andrew Terrell, Greater Nashville Realtors® President said, "If the market follows this trend, we should see a healthy outcome for November based on the 3,127 pending sales for October."
That's good news for the short term. Nashville appears to be a strong real estate market with a vibrant economy that is producing great jobs. Which leads me to a more interesting question.
What future threats should every Tennessean should keep an eye on?
The next recession (Click here to see How Nashville Survived the Last 3 Recessions)
Rising Prices (I'll tackle this issue on Thursday)
Declining Inventory
Here's why you need to pay attention to inventory.
When you search active listings in Nashville and the surrounding counties today, you will find that new construction accounts for 38.9% of all homes listed. That's pretty high considering the lowly state of new construction a few years ago.
Here's the problem with the flood of new homes. It's already slowing down. Based on recent research from MarketGraphics Research Group, local housing starts are flat over last year and expected to decline over the next 2-3 years.
It's due to a lot of factors including land costs, labor shortages, zoning density and lender overreaction to the upcoming recession.
And it takes 2-3 years from concept to construction on new developments. So we won't be able to flip the switch and restart it at the same rate.
Adding insult to injury, people are staying in their current homes longer. This keeps resales out of the inventory and drives up prices. Since 2010, the average time someone lives in their home has increased 62% from 8 to 13 years.
While everyone is worried about the recession, I would pay attention to the inventory especially if you move in the next three years.
The best way to NOT get priced out of the market is to participate in it.
Speaking of pricing, I'll talk about the effect on price if this inventory trend holds true on Thursday.
If you are interested, I've got an amazing tool that helps you keep an eye on any neighborhood in Middle Tennessee. Send me a message with your favorite neighborhood and I'll share it with you.