Here's What Breaks The Market This Time Of Year
Posted by Steve Jolly on Wednesday, March 7, 2018 at 2:13 PM
By Steve Jolly / March 7, 2018
Comment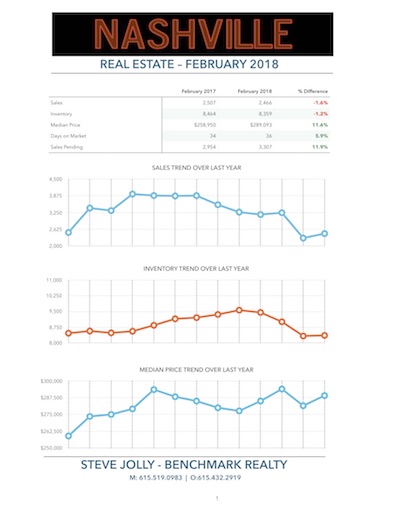 It's hard to believe the effect that this has on the market in February or March.
I don't know if it's human nature, myth or agent advice that makes it come true.
But weather plays a major role in real estate this time of year.
If it is warm and sunny, you'll never notice.
When you get a cold, overcast and wet February, it seems like spring will never get here. And that's what we had this year.
Nashville faced a wet February with rain totaling 277% above average. It's not unusual for us to get that much in one storm, but that's not the case this year.
18 out of 28 (or 65%) of the days were rainy. Not only will this cause buyers to hibernate for six more weeks, but sellers will put off plans too.
Normally, we would be expecting an increase in inventory this month. This year, the exact opposite happened. Not only did the inventory decrease, but so did the sales.

I don't think this is reflective of the demand in the market. I say the decrease in sales was caused by the lack of inventory. And it's not as bad as the news will make it seem.
I'm still committed to my outlook of 6-8% in price appreciation in 2018 for Nashville.
Here's what the numbers said versus February 2017
Sales [Volume] is down 1.6%
Inventory is down 1.2%
Median price is up 11.6%
Days on market is up 5.9%
Pending sales are up 11.9%
For the chart, Click Here:
https://gallery.mailchimp.com/8f7b1db665b88c2aebf8e3e0a/images/6a01380b-bdae-4f8c-ba03-997b53ae9045.jpg
I've already seen a significant increase in activity in my own business over that last 30 days, and with 3,307 pending sales this month, March looks to be a solid month.
Sher Powers, President of Greater Nashville REALTORS® said, "As spring approaches, housing inventory is expected to increase, as will housing competition. The desirability of living in Greater Nashville has caused limited supply, particularly in the entry level and up to the median point price ranges."
If you are looking to purchase a home in Nashville this year, the best advice I can give is to start early. The longer you wait, the tougher it will be.
If you have any questions about Nashville or the market, just hit reply and share them with me.
Looking forward to talking with you.
The Daily Deal in Nashville is this wonderful ranch home in a super convenient location in West Nashville that is listed for less than $425,000.