From hired to fired in less than one day
Posted by Steve Jolly on Monday, November 27, 2017 at 10:15 AM
By Steve Jolly / November 27, 2017
Comment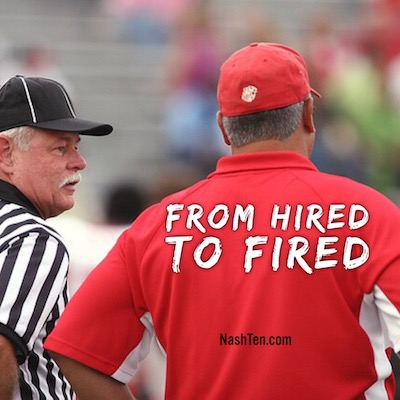 Whether you agree with the decision or not, the online world did something amazing yesterday.
It would never have happened five or ten years ago because the world wasn't tuned into the news like they are today.
And, the news of the past reported on things that already happened. Almost like a history class for the recent past.
These days news gets reported as it is happening by everyday people.
Or even before it becomes final.
That gives news the ability to change the course of history.
And that's exactly what happened yesterday.
If you are not a fan of the Tennessee Volunteers, hang with me for just a minute.
Yesterday morning, word got out that Tennessee was close to finalizing a deal with Greg Schiano for the head coach position.
They agreed to a Memorandum of Understanding, which is the final step before a contract is signed.
Word got out and the fan base of the Tennessee Volunteers exploded in rage.
The big problem was this coach's lack of overwhelming success in his prior head coaching stops.
He did have one big year at Rutgers in 2006, where his team went 11-2 and finished 12th in the national polls.
Other than that year, the rest of his coaching record is average compared to Tennessee football standards.
His overall head coaching record in college was 68 wins and 67 losses. In his short career in the NFL at Tampa Bay, his record was 11 wins and 21 losses.
Not the kind of record that inspires a fan base who has mired in a decade of mediocre football.
On top of his win-loss record is his coaching history at Penn State. He was part of Jerry Sandusky's defensive staff at Penn State and was reported to have known about the ongoing abuse committed by the coach.
Though Schiano denies any knowledge of abuse, that stain will stick with him throughout his career.
Tennessee fans wanted better for their football program.
Within a few hours, they blew up the internet with calls for a mutiny if Schiano was hired.
Former players threatened to forgo their allegiance or offered their coaching assistance instead.
"The Rock" on campus was painted with a message rejecting the new hire and students were protesting at the stadium.
The scene was reminiscent of the riot when Lane Kiffin announced he was leaving Tennessee after one year to take the head coaching position at USC.
Instead of a press conference to welcome the new coach, the administration announced they were not going to hire Schiano.
And history was changed within a matter of hours.
Having a close connection to you is one of the reasons why I write so frequently. It's through these conversations that we both learn about each other.
Today, it is your turn.
I want to hear what you think about the real estate and the economy in Nashville.
What is working for you, what you would change and what drives you crazy?
Just hit reply and let me know what is on your mind.
And I'll get back to you right away.

The Deal of the Day in Nashville is this renovated home in East Nashville that is listed for less than $300,000.